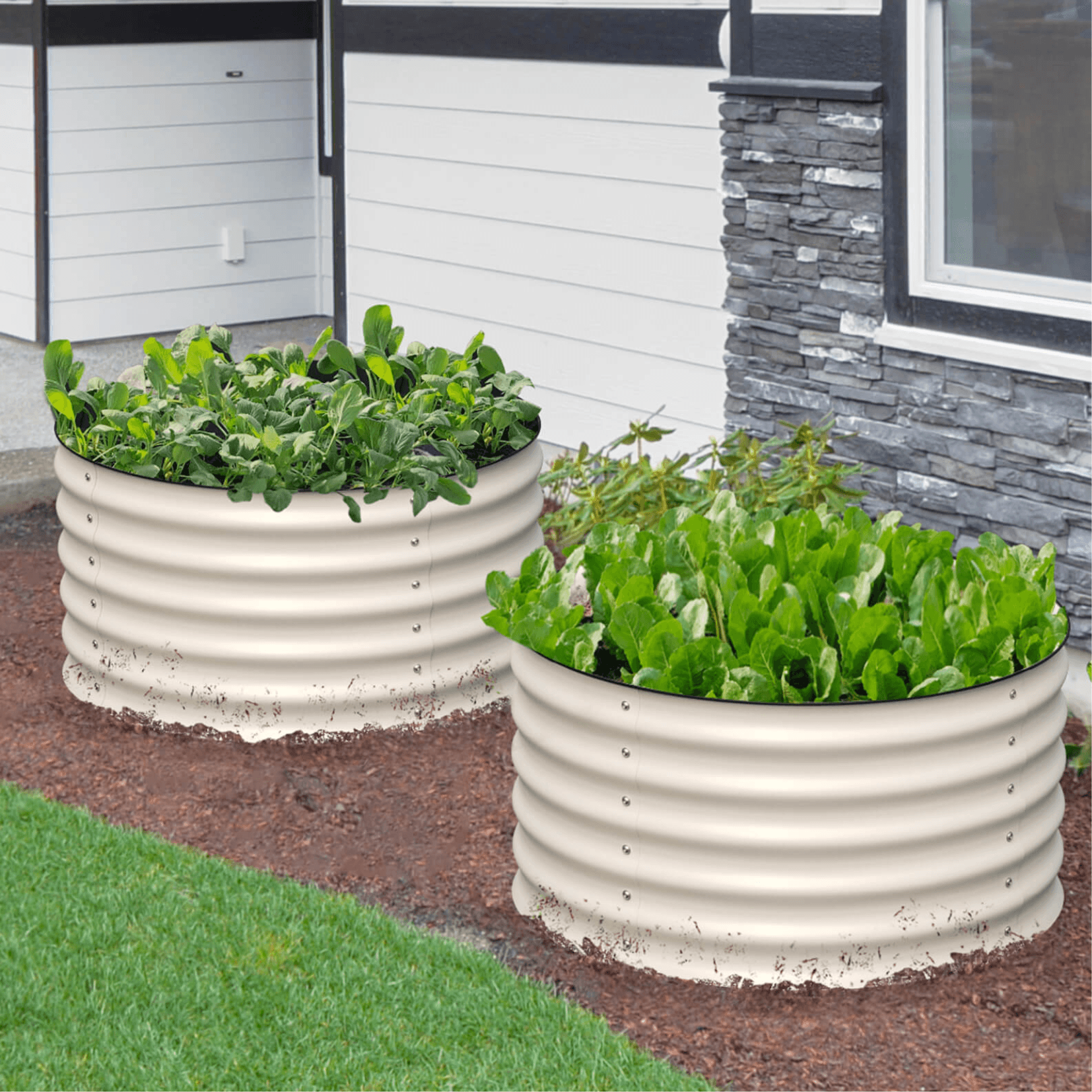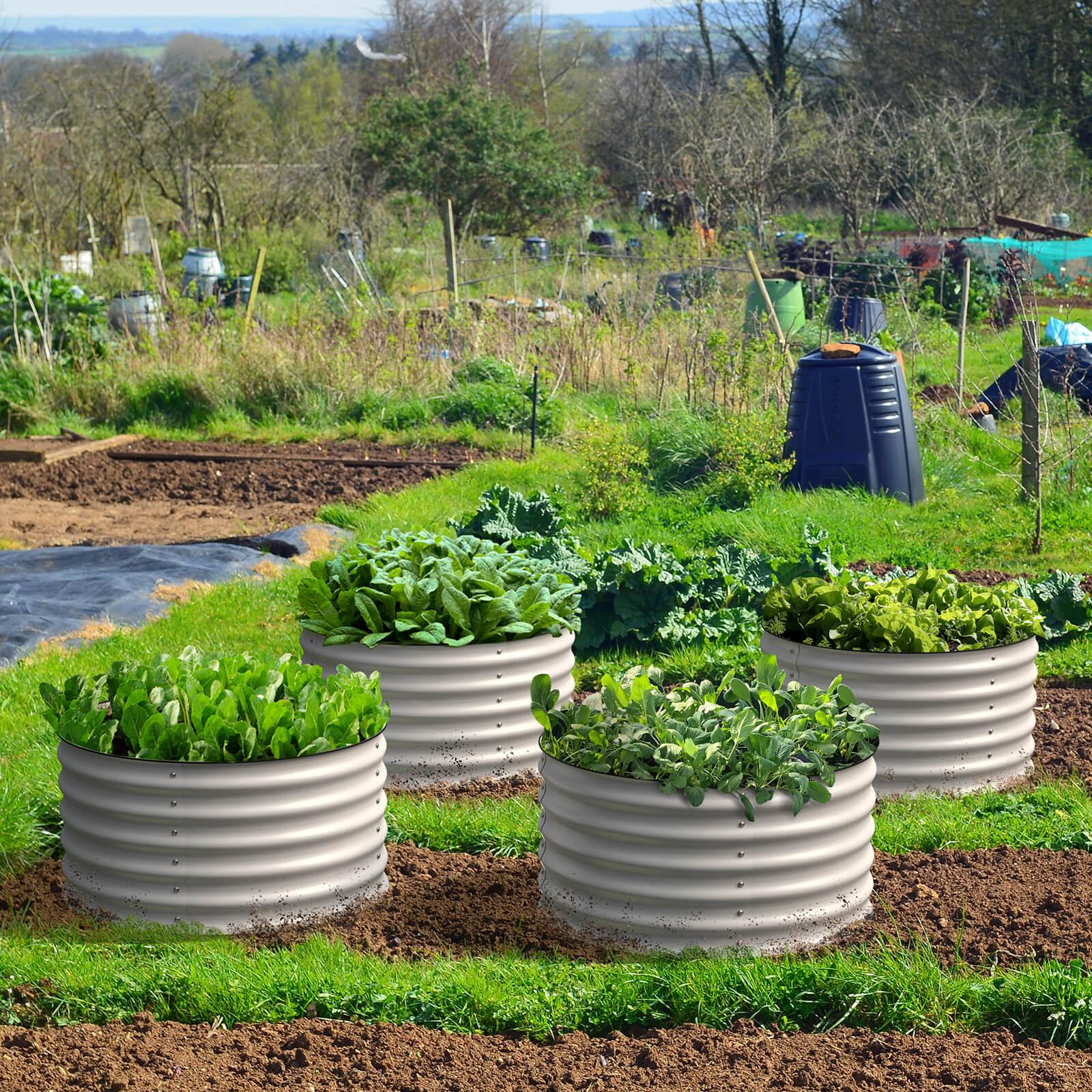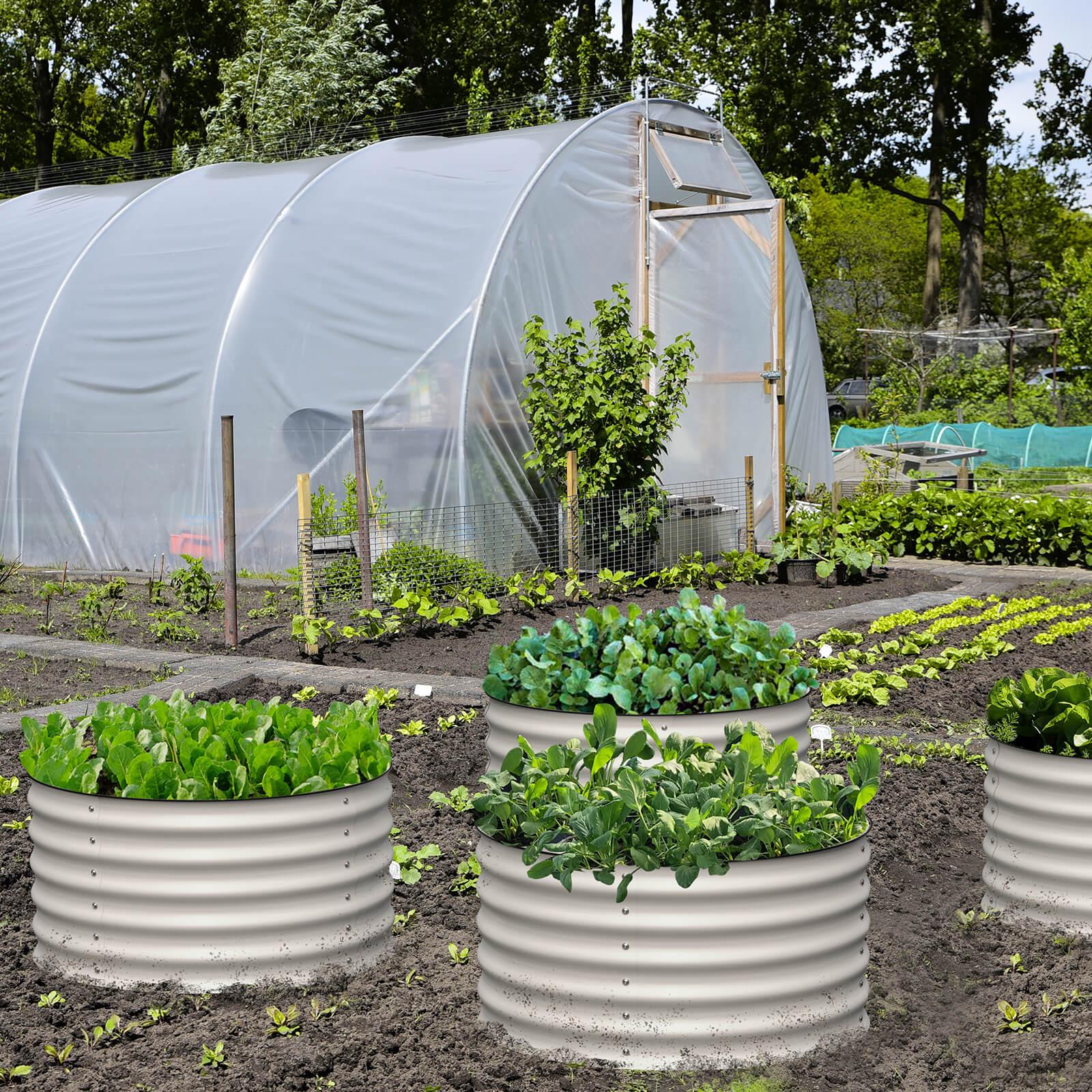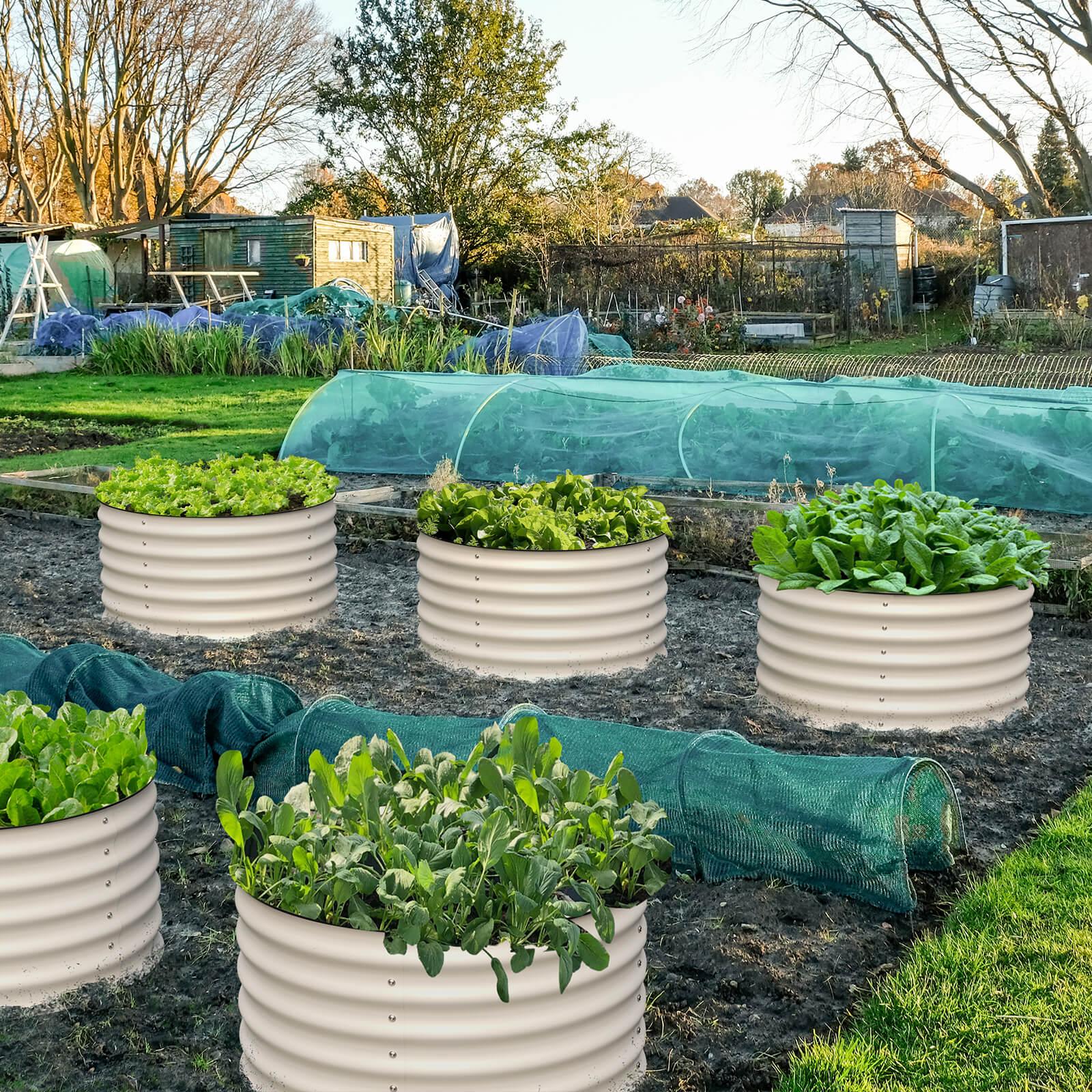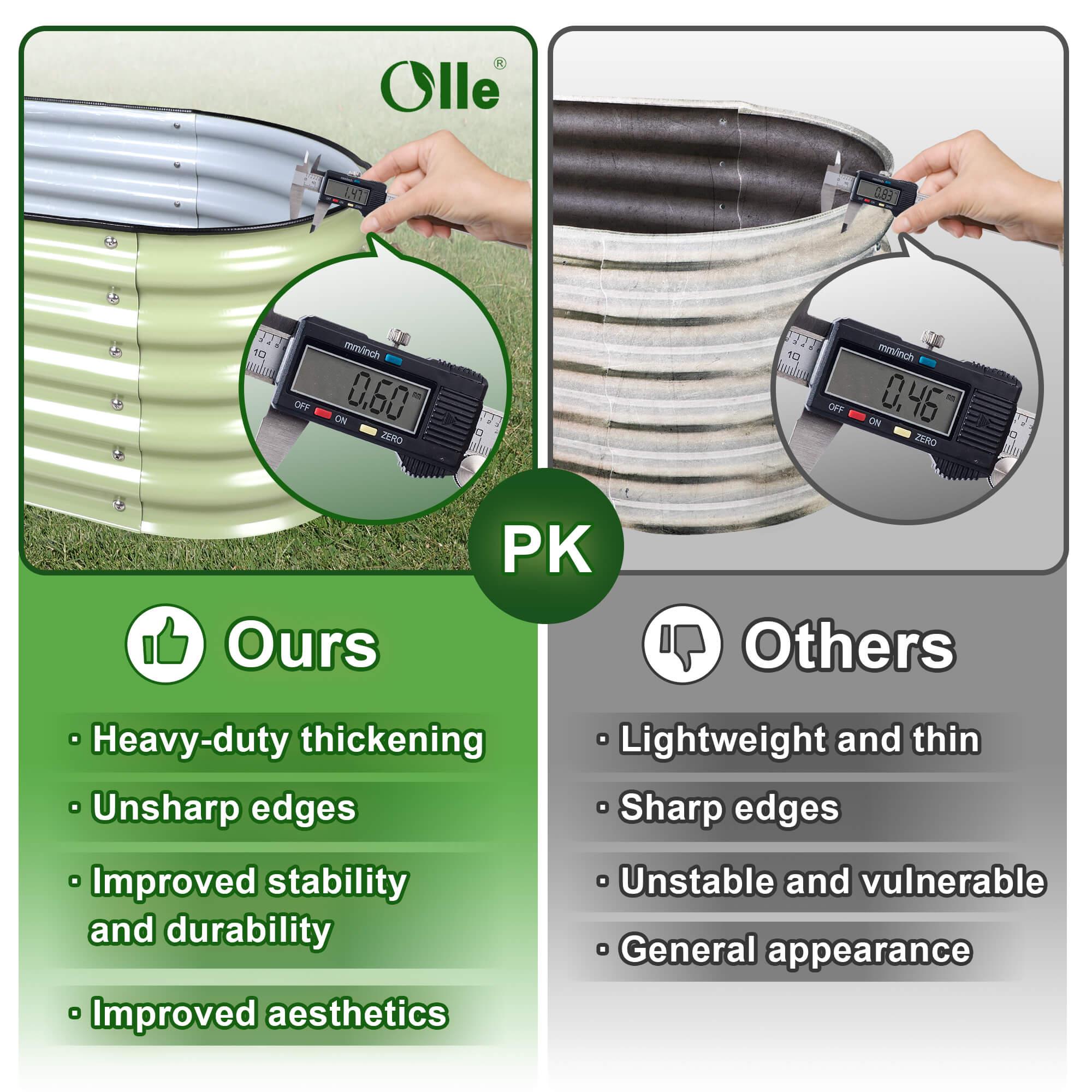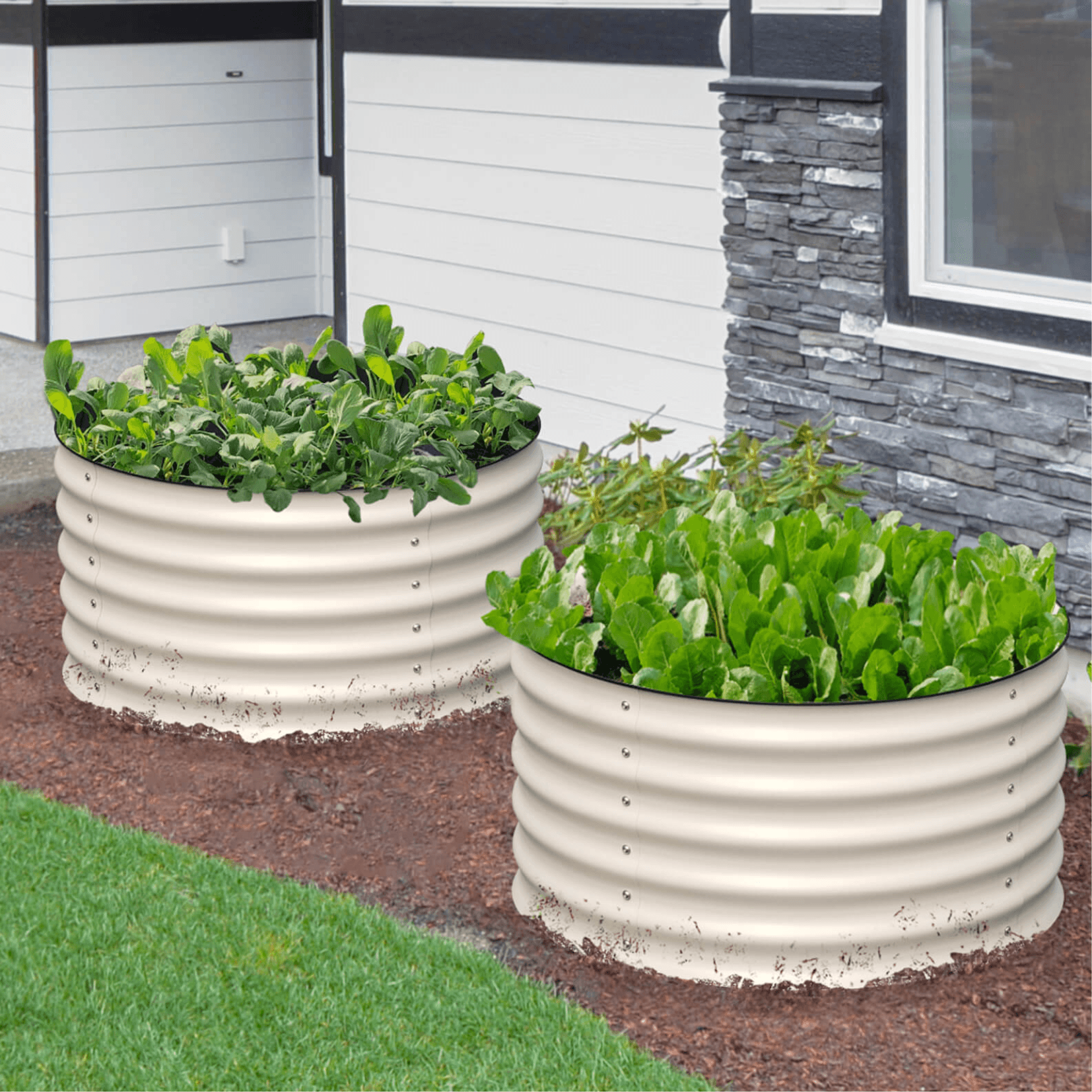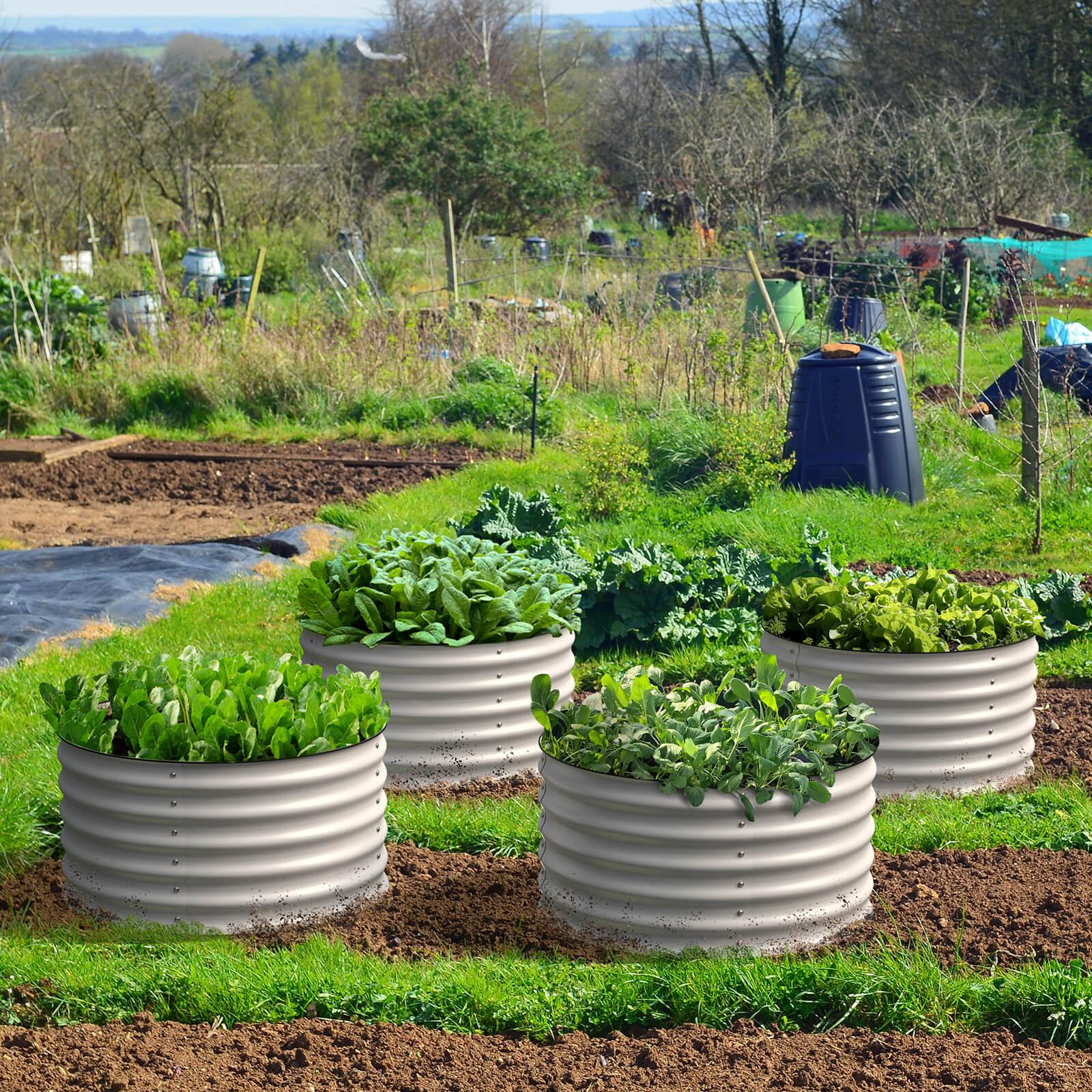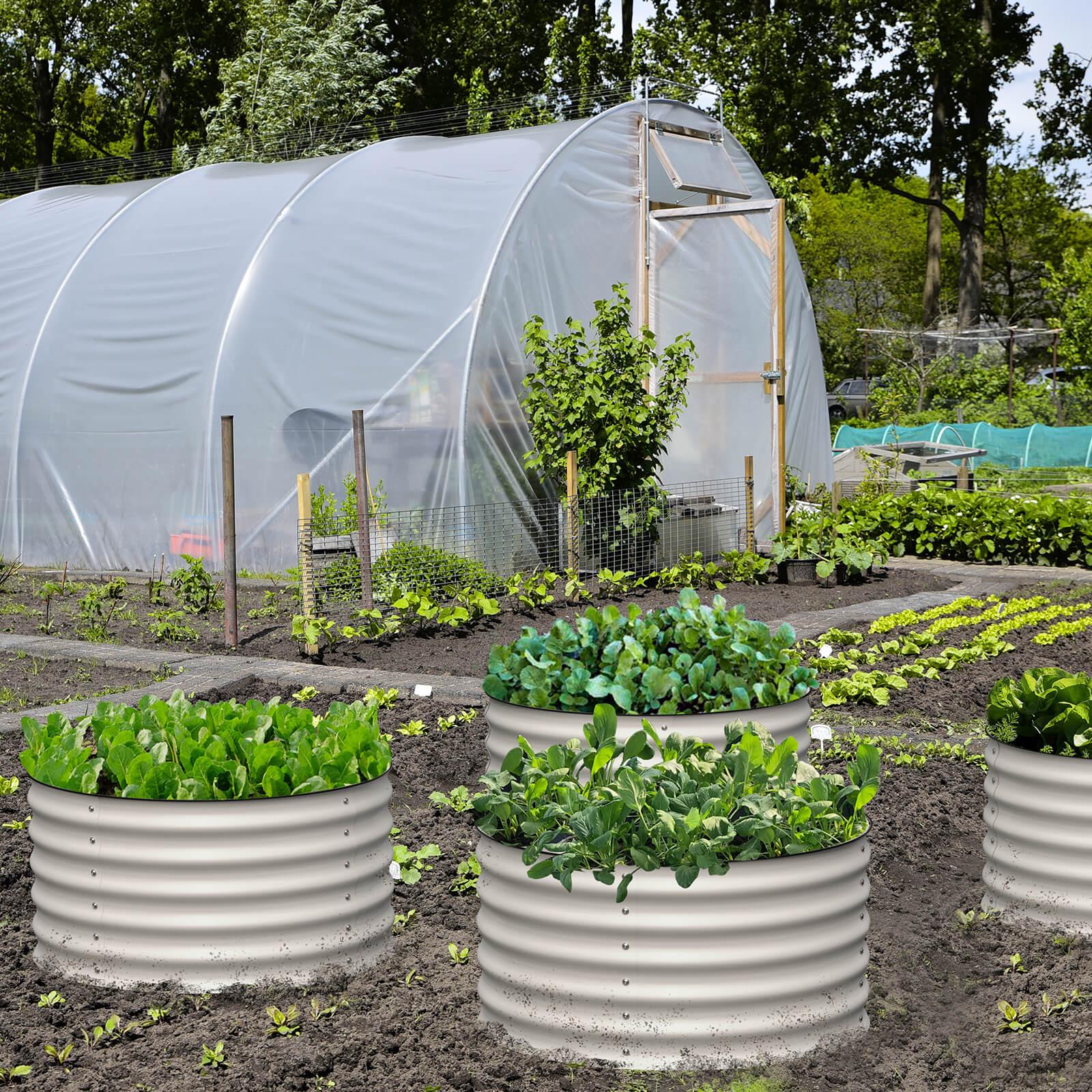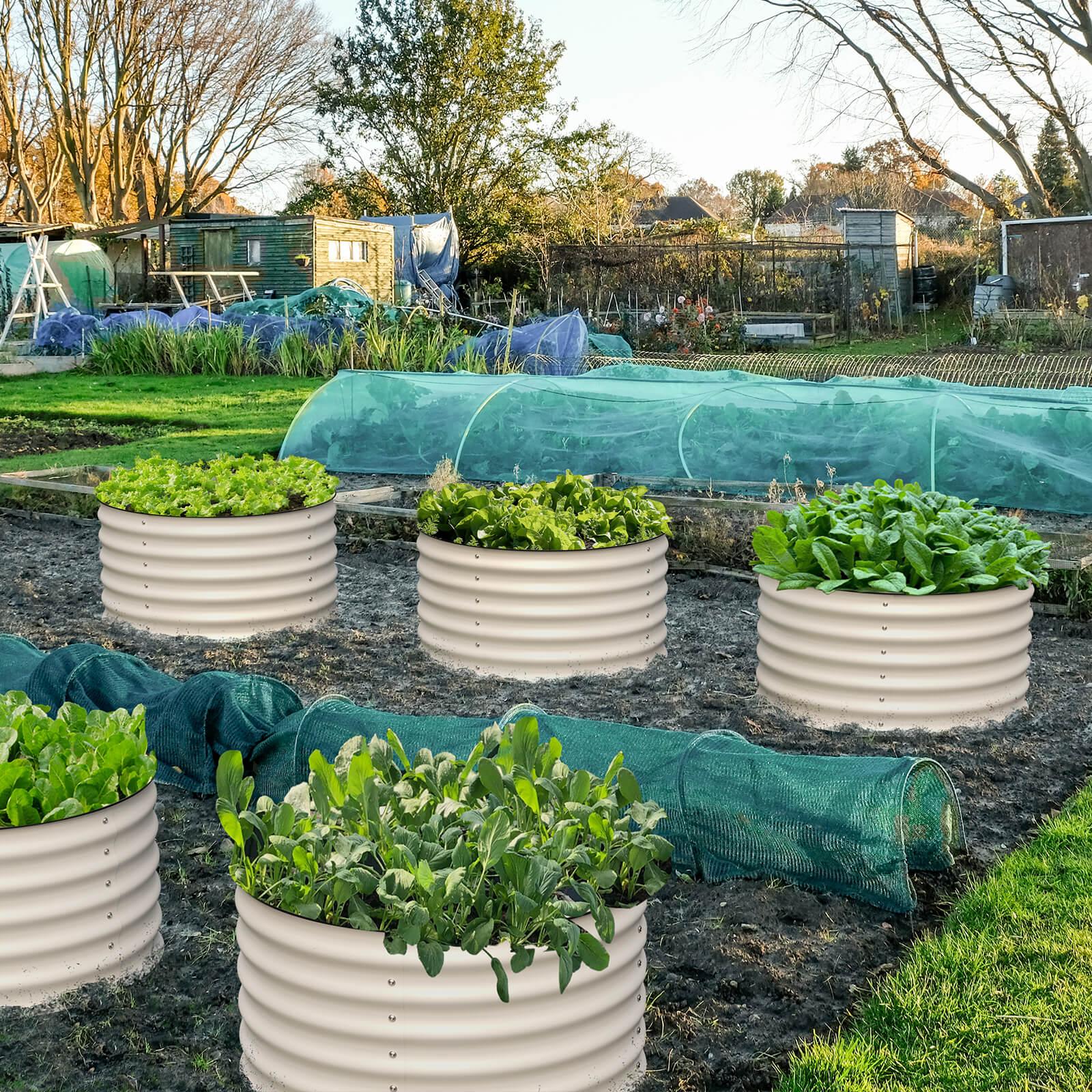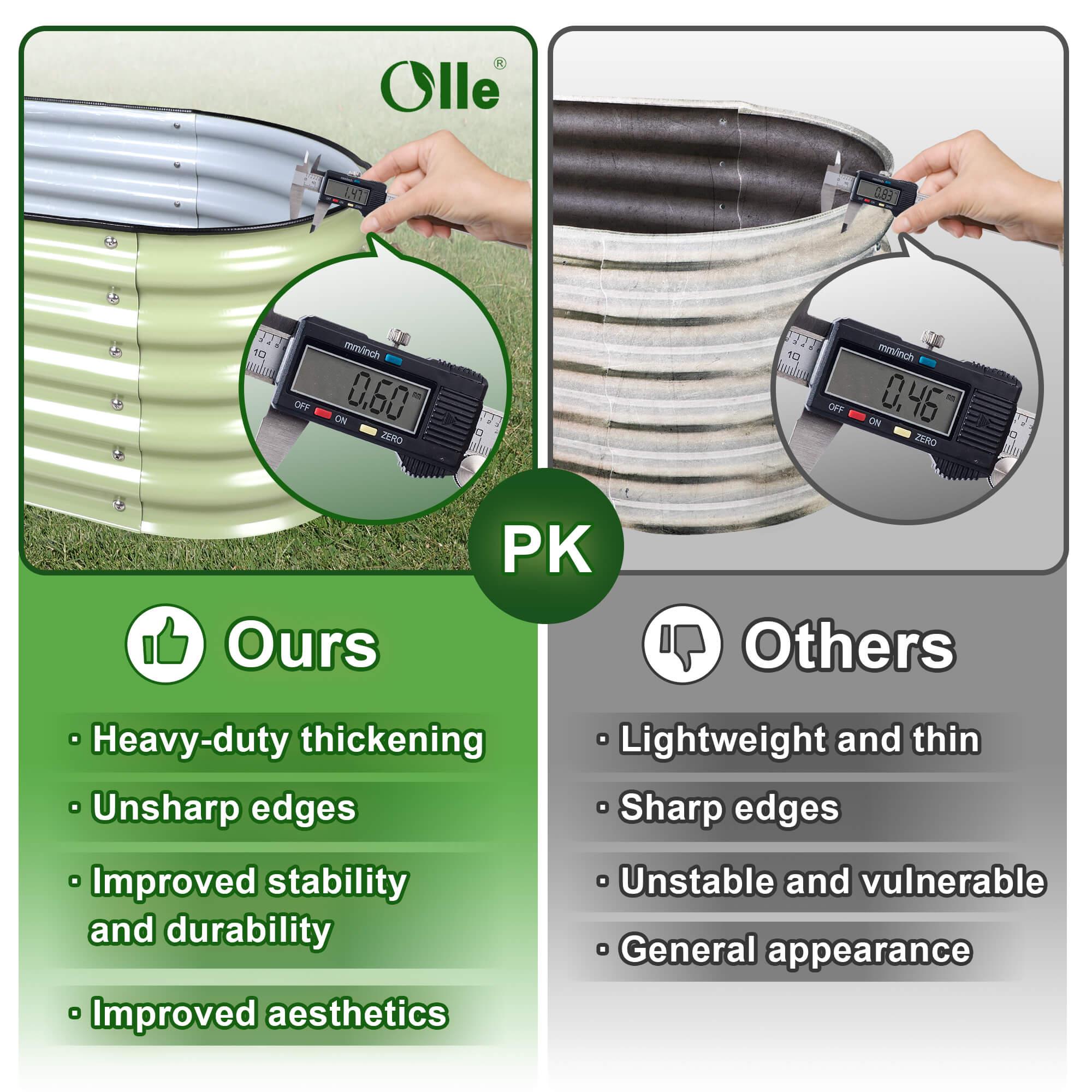 17" Tall, 24" Round Pair Raised Garden Beds , (2) per set in Ivory
In Stock
Free Shipping
Twin Garden Bed Dimensions
2 Sets, Each bed comes with 4 curved panels.
Weather-Resistant
Made of corrugated steel, the galvanized garden bed is safely protected against the weather by a special zinc-aluminum alloy.
17" Tall, Open Bottom
The raised garden bed have an open bottom design which improves drainage and promotes root development.
20 Minutes, Easy to Assemble
An easy DIY assembly. You can quickly put your bed together with the bolts, nuts, washers, and a wrench tool that we provide.
Eco-Friendly Material
Olle Gardens' materials are corrosion-resistant and recyclable. They're also heat resistant and built to last.
Built to Last (20+ Years)
Our galvanized steel panels are 0.6mm in thickness. Strong and sturdy to hold the weight of soil and plants.
Safety Features
Olle Garden Beds come with a rubber safety strip to protect you from the sharp edges of the panels. Safe for children, elders, and pets.
Sustainability
Olle Products are built for many years of happy gardening, the food grade coating is safe for vegetable planting.
4 pcs
corners 24"
4 pcs
Short Panels 16"
4 pcs
Long Panels 20"
132 sets
Washers and Nuts
1 ste
Wrench Tool
1 set
Rubber Safety Edging
8 pcs ( 4 pcs/set)
Curved Panels


48+4 sets
Stainless Steel Bolts, Washers and Nuts
(48 short + 4 long*)
4 pcs
Short Panels 16"
1 pc
Wrench Tool
1 pc
Rubber Safety Edging
CAUTION: Please be aware there are sharp edges on the metal panels that may cause injury. The use of protective equipment such as gloves and closed toe shoes is recommended.
*Long Bolts are provided for stacking the two beds into a 32" high bed. Use the long bolts where the two beds overlap.
CAUTION: Please be aware there are sharp edges on the metal panels that may cause injury.The use of protective equipment such as glovesand closed toe shoes is recommended.
Ask Customer Service
Address: 825 W. Walnut Street, Compton, CA. 90220

Phone: 1-833-655-3872
Email: info@ollegardens.com

If there is anything we can help, don't hesitate to contact us by filling contact form below:

Great product
This was our second order of raised beds. They are easy to assemble and are very sturdy
The circular shape adds a touch of elegance to my garden and allows for efficient use of space. It's the ideal solution for creating a cozy herb garden or a stunning floral display.
Met Expectations
The descriptions and photos looked great, and the product I received is great
The Round Garden Bed is a must-have for any garden enthusiast. Its elegant design adds a touch of sophistication to my outdoor space, and it's incredibly functional. I appreciate the convenience of not having to bend over too much, and the planting depth is just right. It's a durable and stylish addition to my garden, and I couldn't be more satisfied.
I recently purchased the Round Garden Bed for my backyard, and I couldn't be happier with the results. It was easy to set up, and the circular design allows for efficient use of space. I've already grown a bountiful harvest of vegetables and herbs, and it looks fantastic as a centerpiece in my garden.
The round shape provides versatile planting possibilities. Whether you're going for a symmetrical design with a central focal point or a riot of colors in a circular pattern, this garden bed accommodates your creativity. It's an ideal canvas for various gardening styles.
The lovely colors of these circular garden beds definitely provide a splash of color to the yard!
Olle vs others
I love the color and the fact I didn't have to buy a long bed just to get the end pieces needed to have round beds! That's what I had to do to get another color that I wanted. I did find it odd that the tightening tool provided was not suitable enough to successfully tighten nuts enough. One of the best features is the tubing that fits the edge! I have two other brands of metal beds and I wish their edge tubing was as durable and easy to install and stay on the edge as yours. Thank you for a product I look forward to enjoying for years to come!
They are simple to assemble and look fantastic in our yard. Herbs and vegetables grow in good soil. Our best decision ever.
I love it!! It looks nice, will last a long time and my strawberries will be very happy in it.