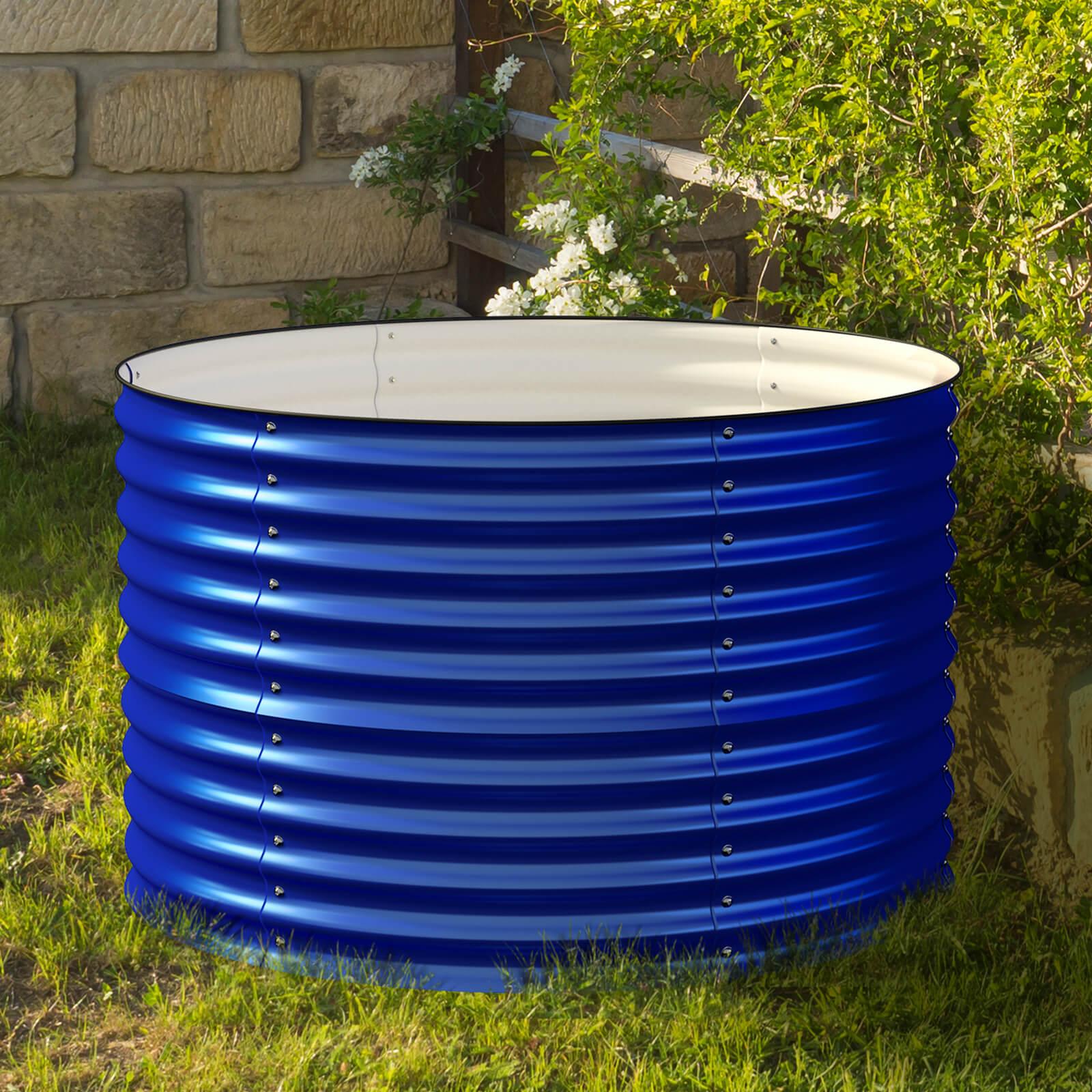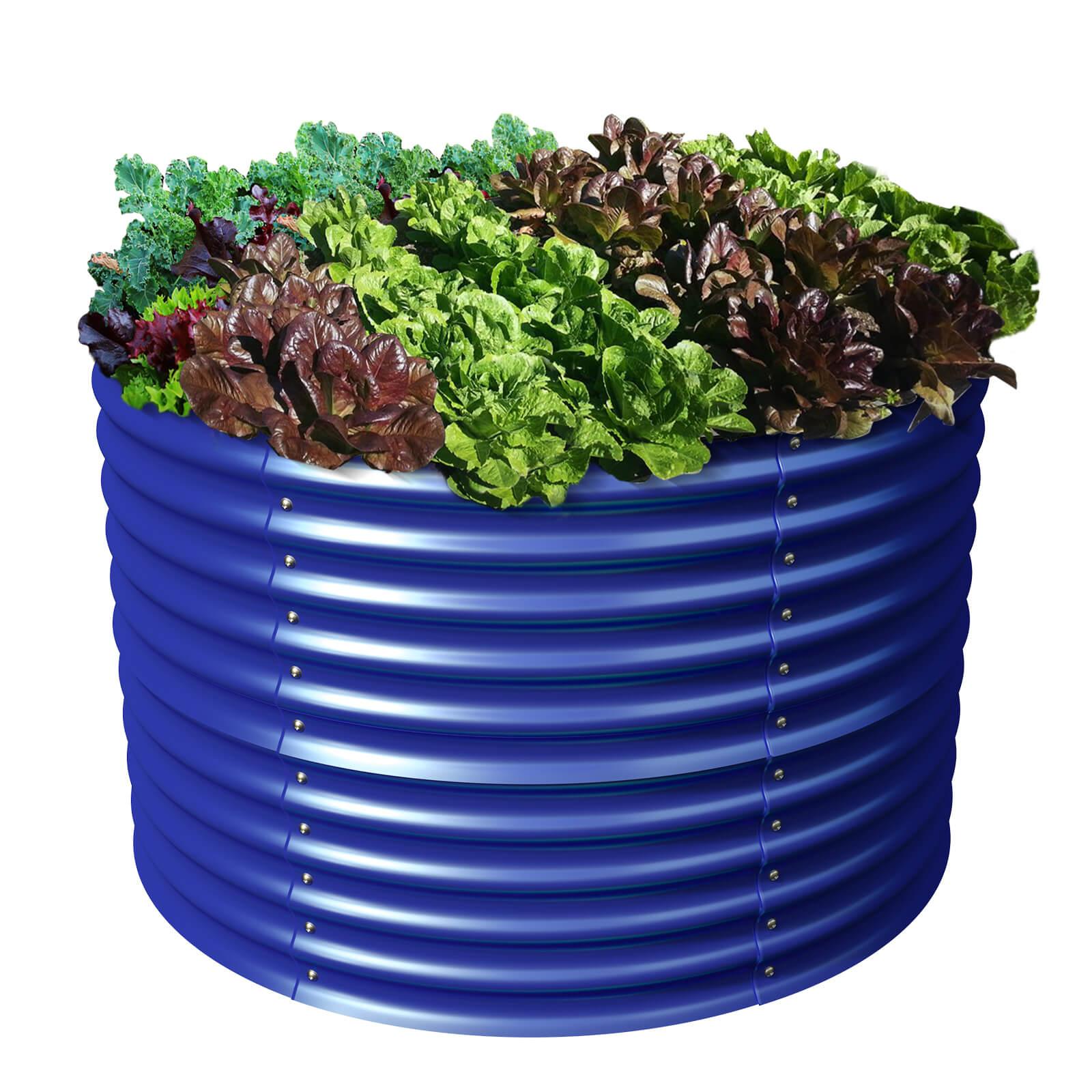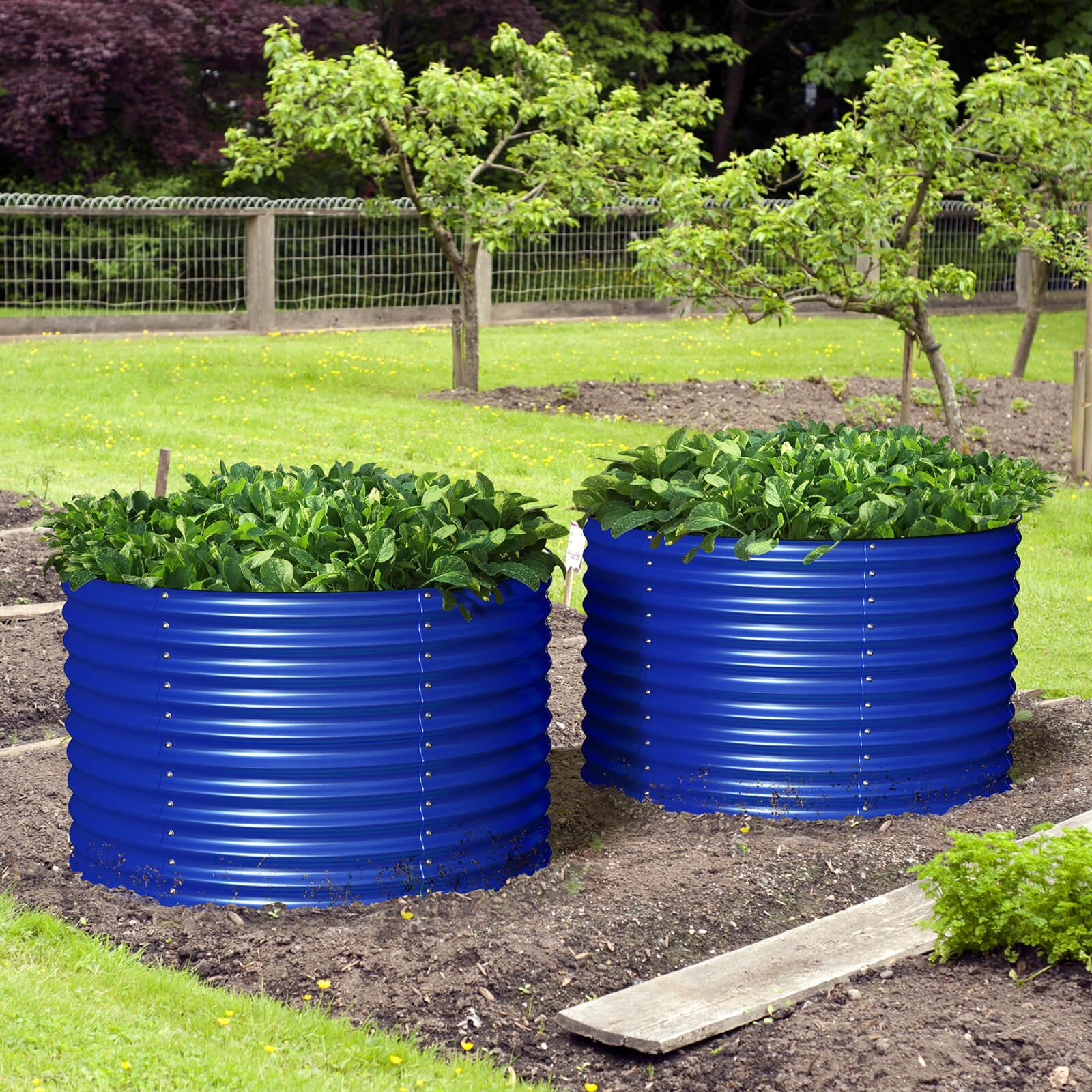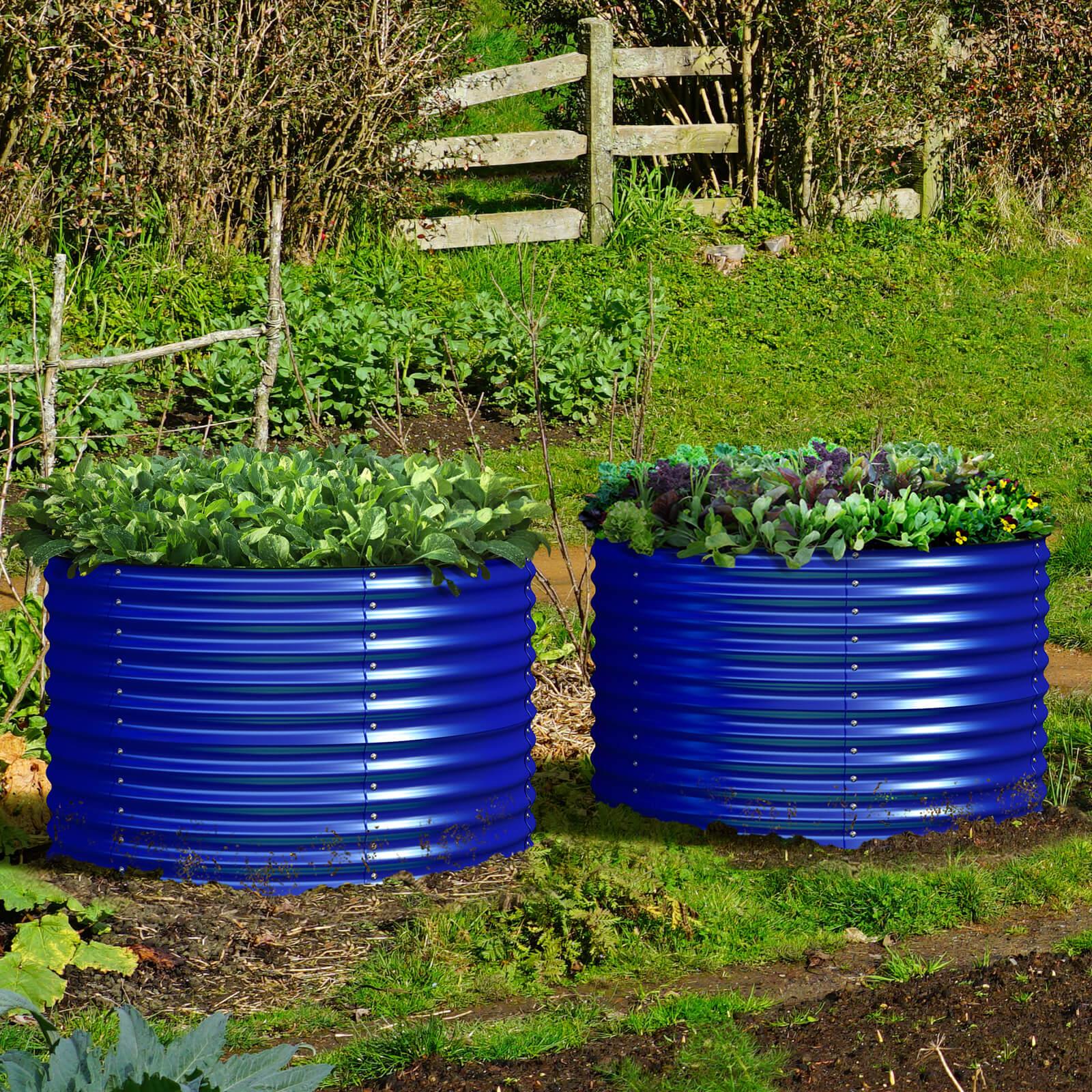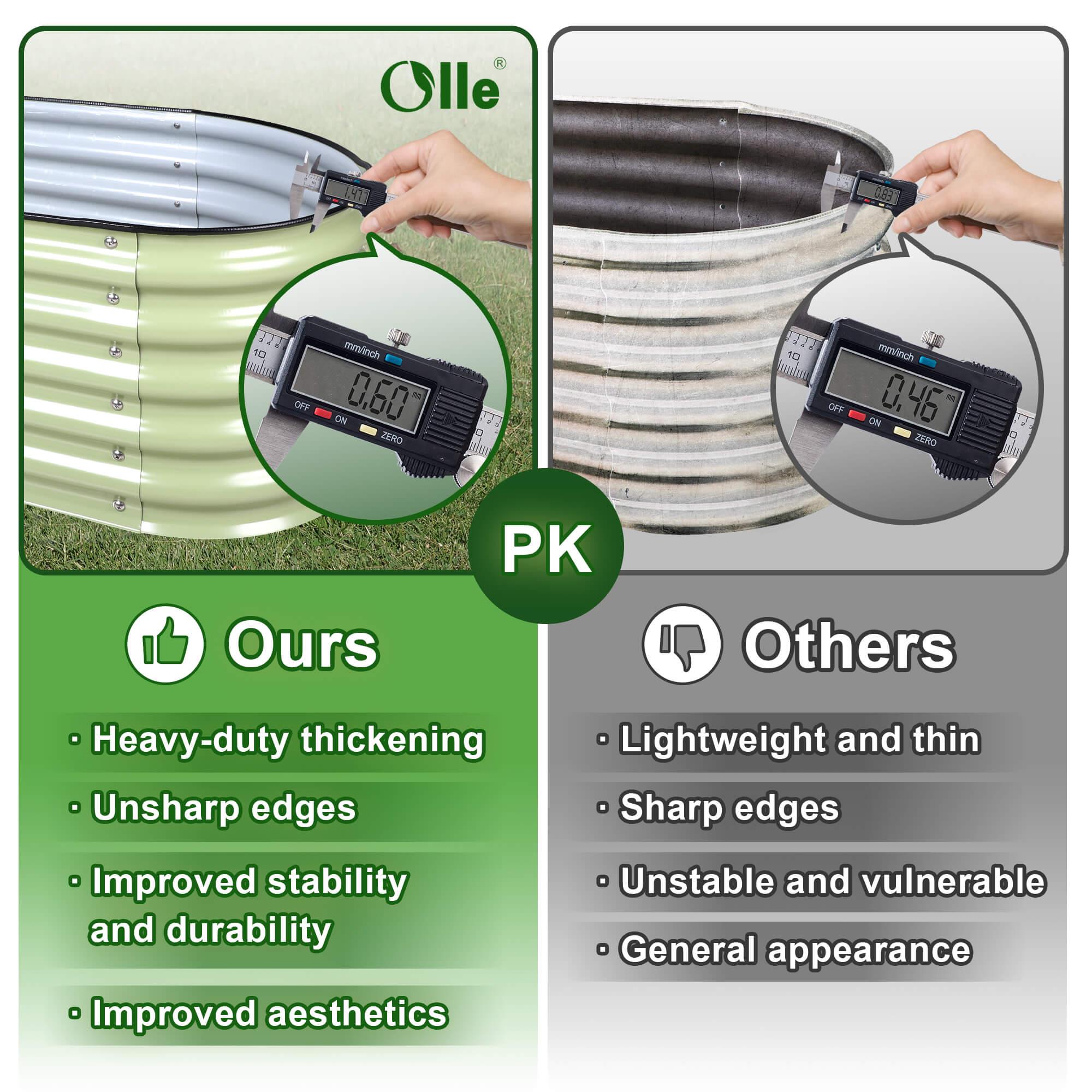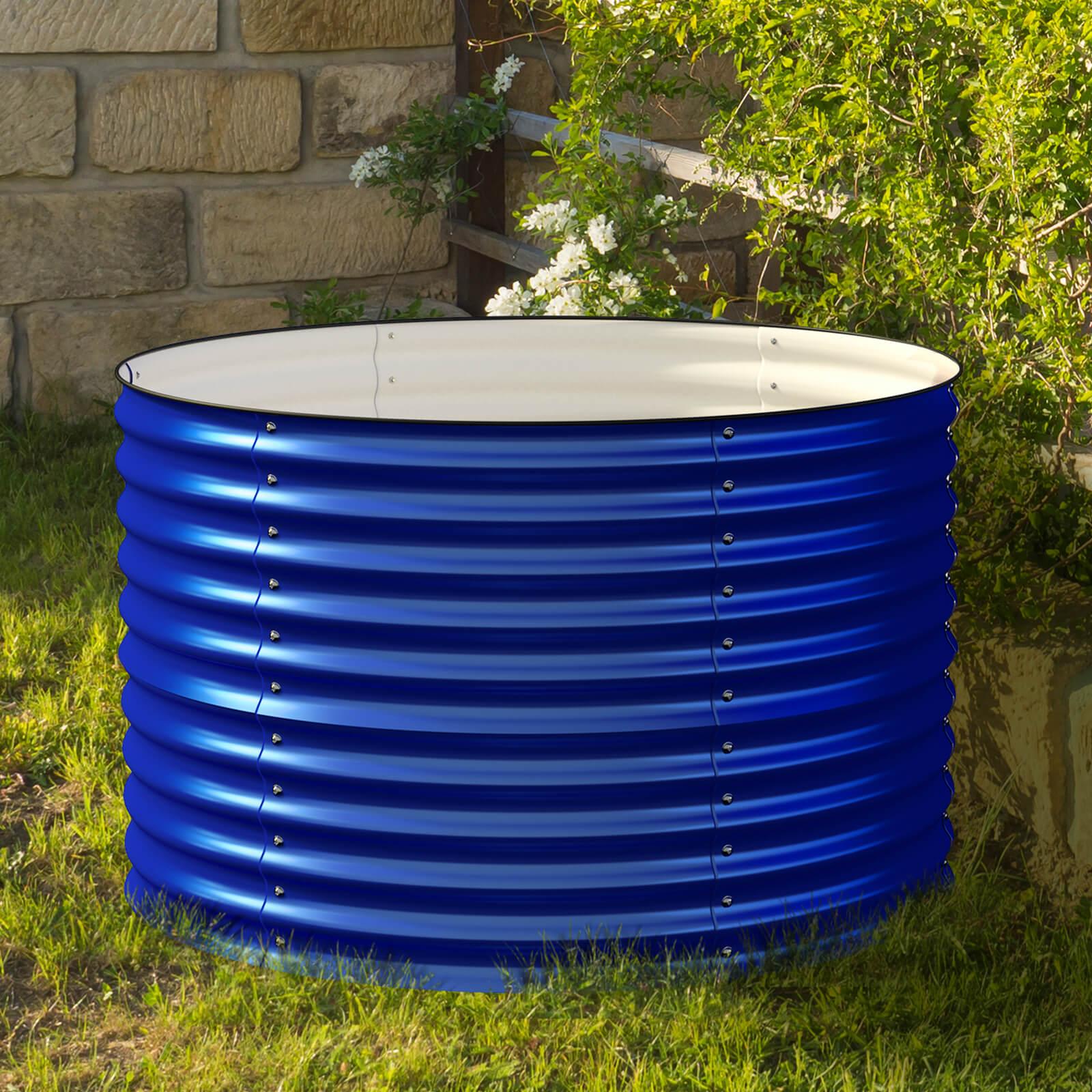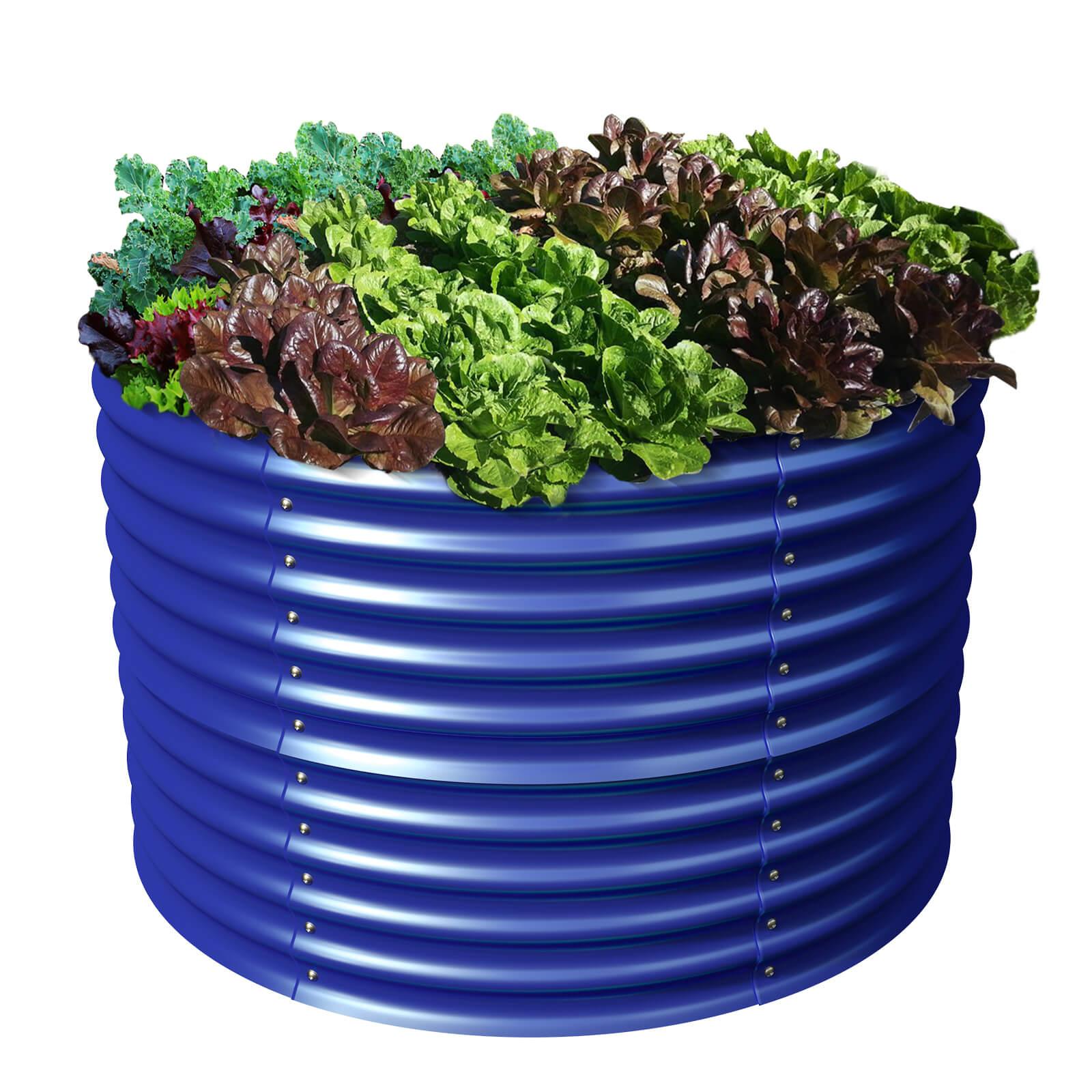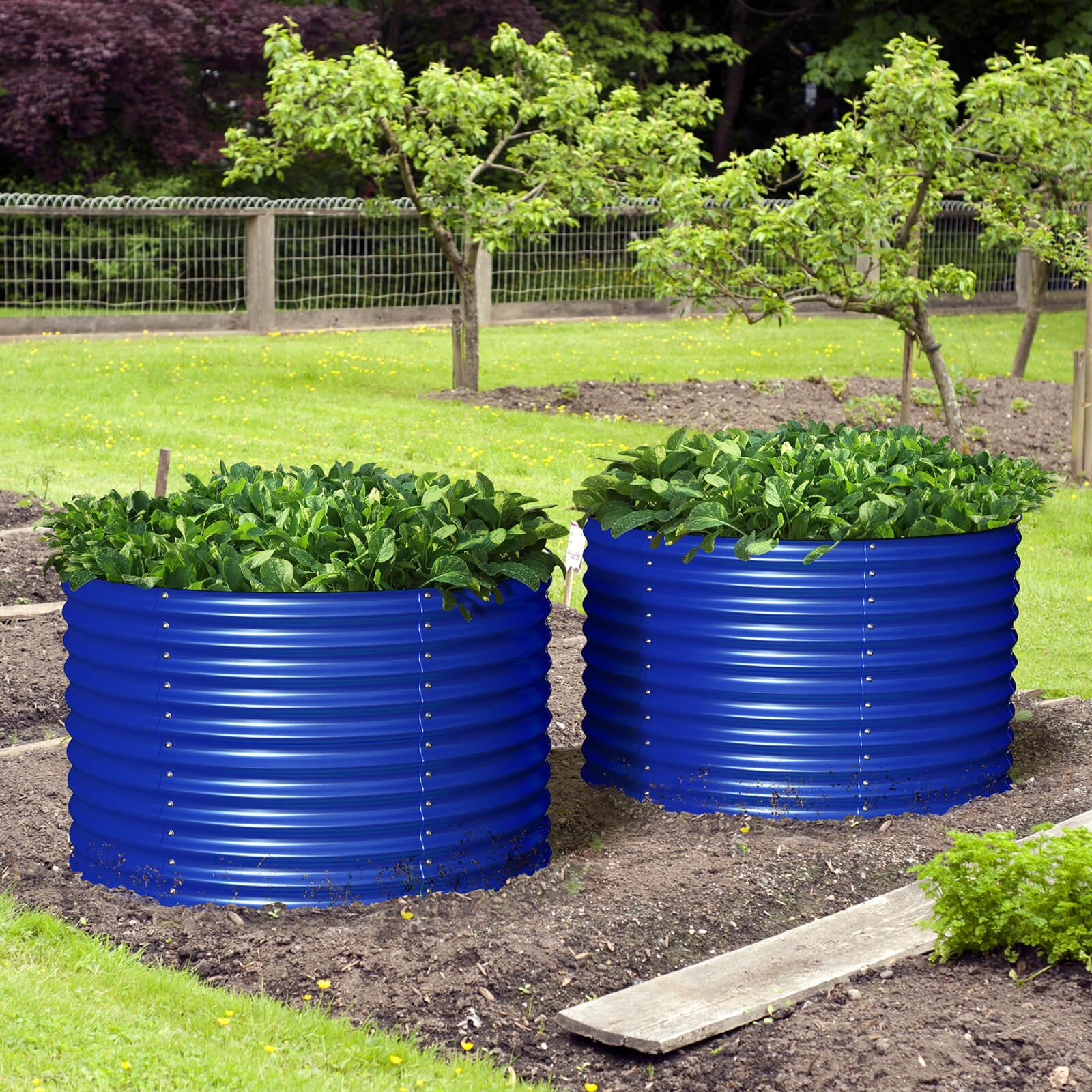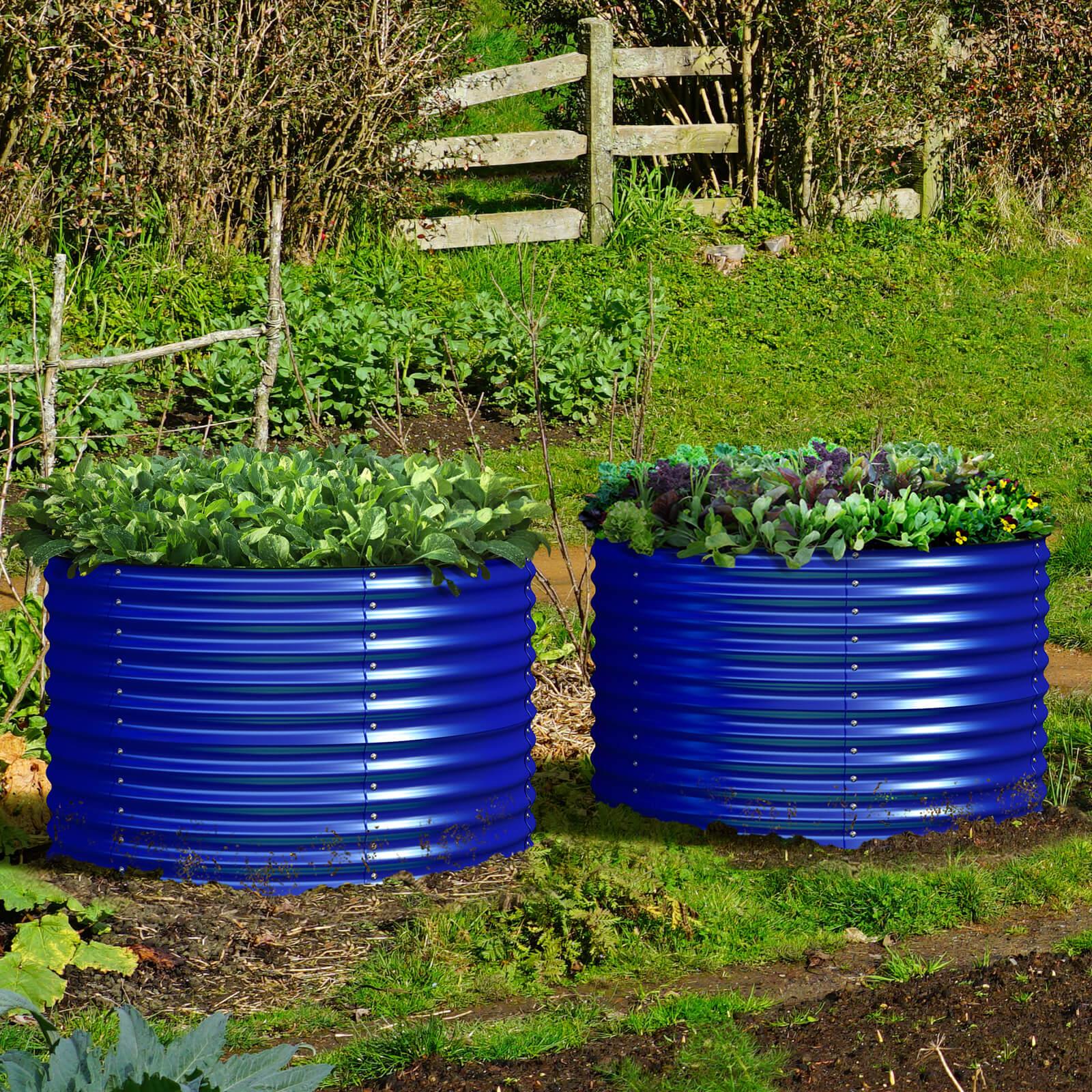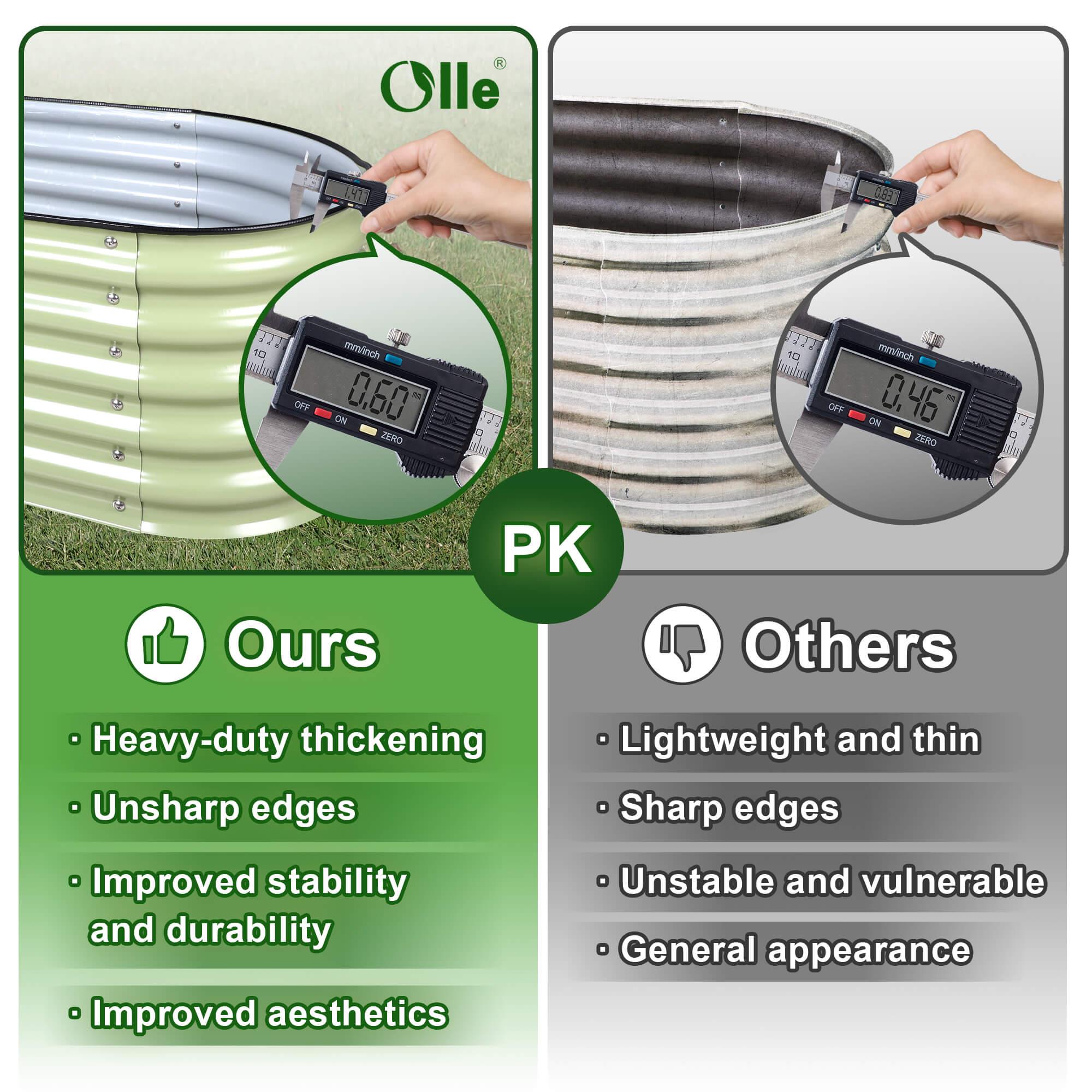 32" Tall x 42" Round Raised Garden Bed, in Cobalt Blue
Presale Arrives Late November
Free Shipping
Round Garden Bed Dimensions
Each bed comes with 6 curved panels.
Weather-Resistant
Made of corrugated steel, the galvanized garden bed is safely protected against the weather by a special zinc-aluminum alloy.
32" Tall, Open Bottom
The raised garden bed have an open bottom design which improves drainage and promotes root development.
20 Minutes, Easy to Assemble
An easy DIY assembly. You can quickly put your bed together with the bolts, nuts, washers, and a wrench tool that we provide.
Eco-Friendly Material
Olle Gardens' materials are corrosion-resistant and recyclable. They're also heat resistant and built to last.
Built to Last (20+ Years)
Our galvanized steel panels are 0.6mm in thickness. Strong and sturdy to hold the weight of soil and plants.
Safety Features
Olle Garden Beds come with a rubber safety strip to protect you from the sharp edges of the panels. Safe for children, elders, and pets.
Sustainability
Olle Products are built for many years of happy gardening, the food grade coating is safe for vegetable planting.
4 pcs
corners 24"
4 pcs
Short Panels 16"
4 pcs
Long Panels 20"
132 sets
Washers and Nuts
1 ste
Wrench Tool
1 set
Rubber Safety Edging
6 pcs
Curved Panels
66 sets
Stainless Steel Bolts, Washers and Nuts
4 pcs
Short Panels 16"
1 pc
Wrench Tool
1 pc
Rubber Safety Edging
CAUTION: Please be aware there are sharp edges on the metal panels that may cause injury. The use of protective equipment such as gloves and closed toe shoes is recommended.
CAUTION: Please be aware there are sharp edges on the metal panels that may cause injury.The use of protective equipment such as glovesand closed toe shoes is recommended.
Ask Customer Service
Address: 825 W. Walnut Street, Compton, CA. 90220

Phone: 1-833-655-3872
Email: info@ollegardens.com

If there is anything we can help, don't hesitate to contact us by filling contact form below:

I adore these rounded planters so much! The green is a lovely, subtle color that fits in well with my design. Overall, I adore these planters and wholeheartedly suggest them to everyone.
Great value for the price. They look super cute in the garden and I recommend them to anyone looking for a cute raised garden bed.
I love the look of this bed and will be leaving it as is. I loved it so much I bought a second one for the other side of the garden area! If I had more room this would be on the list as first to buy!
Moderately easy to assemble. It's sturdy, and should last decades.
Setting up this metal garden bed was a breeze! The assembly instructions were clear and easy to follow, and all the necessary components were included. Within a short time, I had the bed ready for planting. The hassle-free assembly process was a pleasant surprise.
The bottomless design of this metal garden bed offers excellent drainage and prevents waterlogging. It allows my plants' roots to access the surrounding soil, promoting healthy growth. Moreover, the absence of a bottom makes it easier for me to manage the bed's location and maintain soil quality.
The galvanized steel construction of this garden bed is outstanding. It not only adds durability but also ensures that it can withstand various weather conditions without rusting or corroding. I'm confident that this bed will last for years, making it a great investment for my garden.
This product is great value for the money, as it is both sturdy and easy to assemble. I was pleasantly surprised by how quickly it arrived, and have already ordered more after receiving my initial order of four. Additionally, all the necessary hardware was included in the box, and there were even 1-2 extra hardware sets. Overall, I highly recommend this product.
I got a really good deal on these and they've held up really well. I've been using them for a long time now and I'm really happy with how they've performed.
Satisfied with the quality of your planters compared to another brand I had previously purchased. Your product exceeded my expectations, and I am grateful for the prompt shipping. I intend to purchase more from you in the future, as I anticipate the other brand to eventually fail. Thank you for providing such a fantastic product.