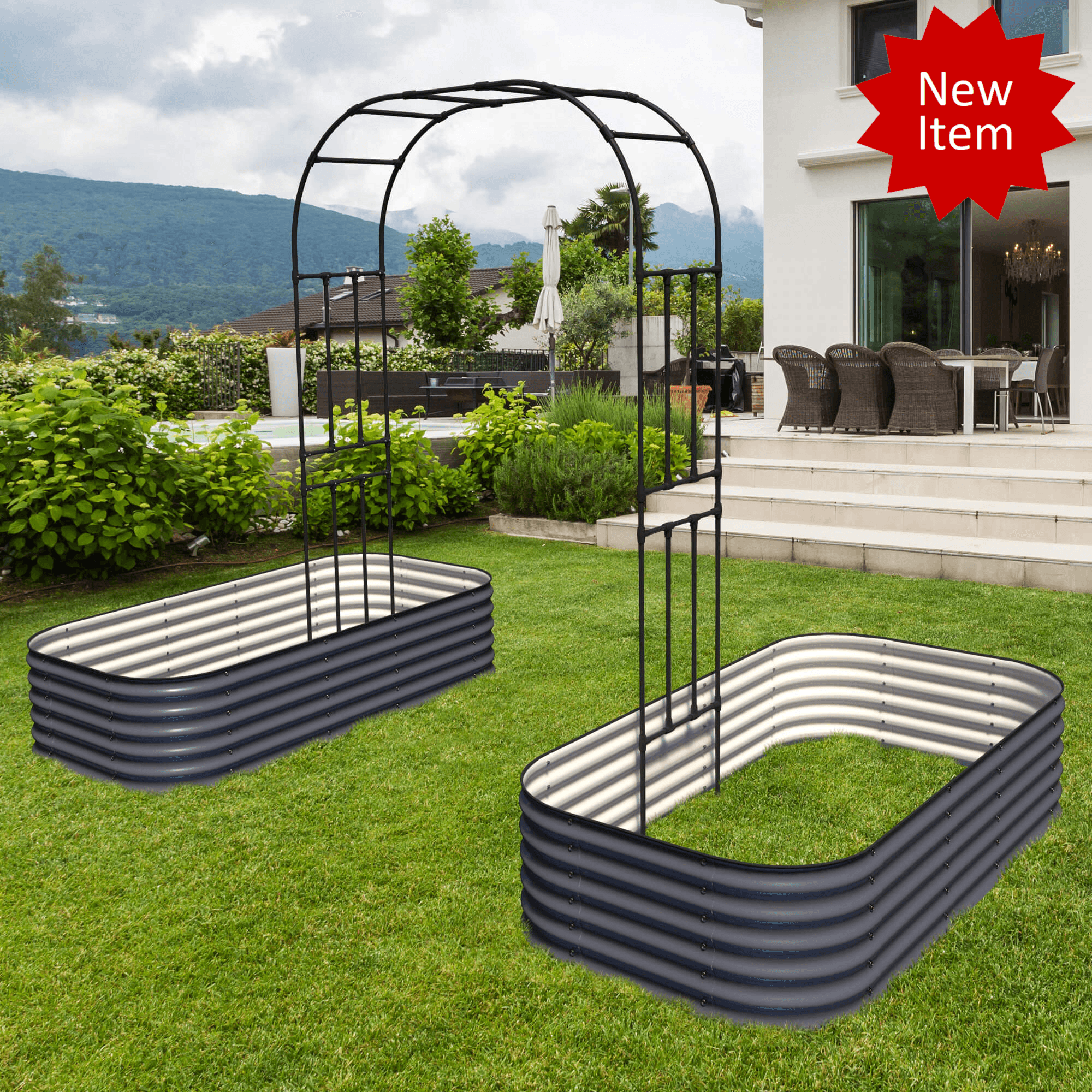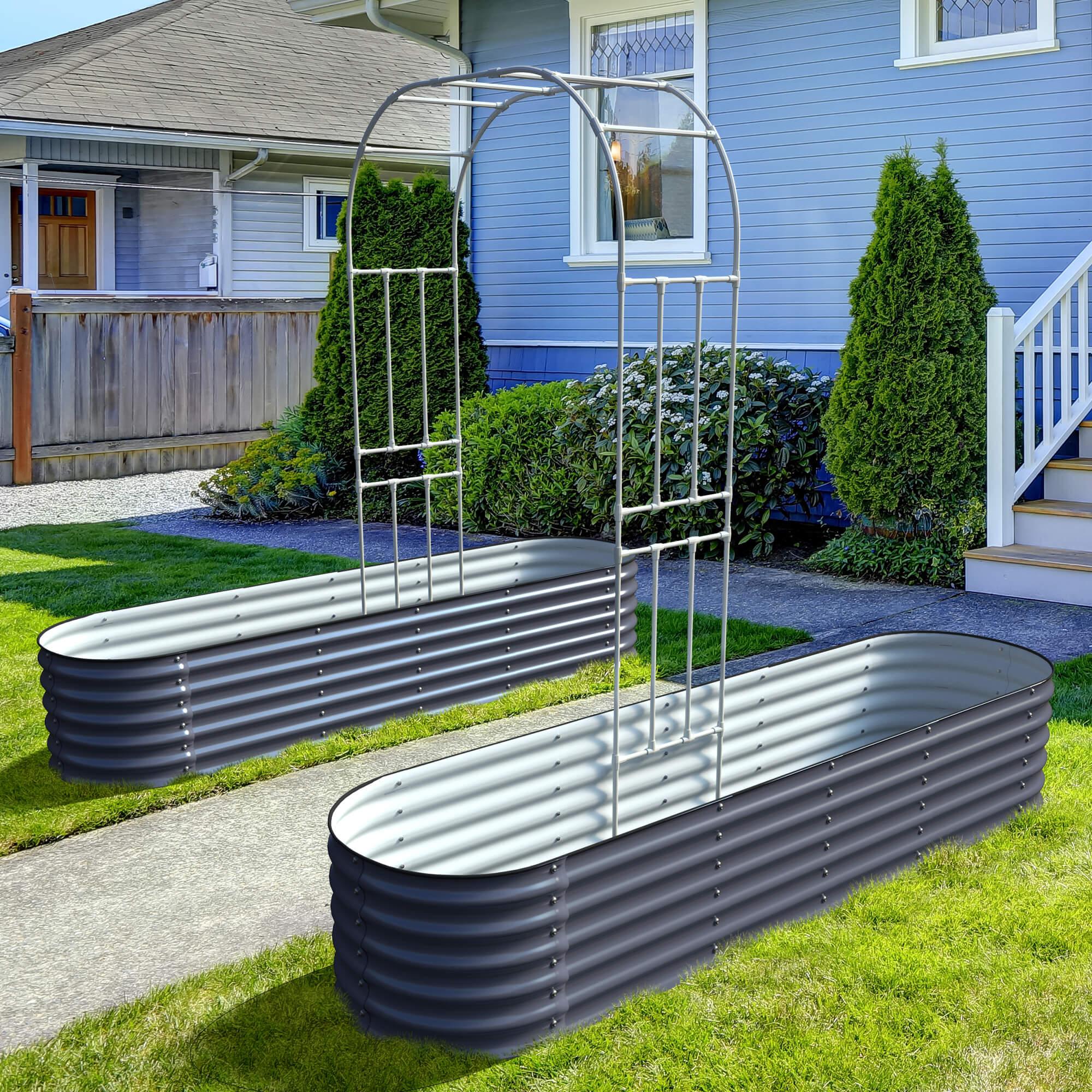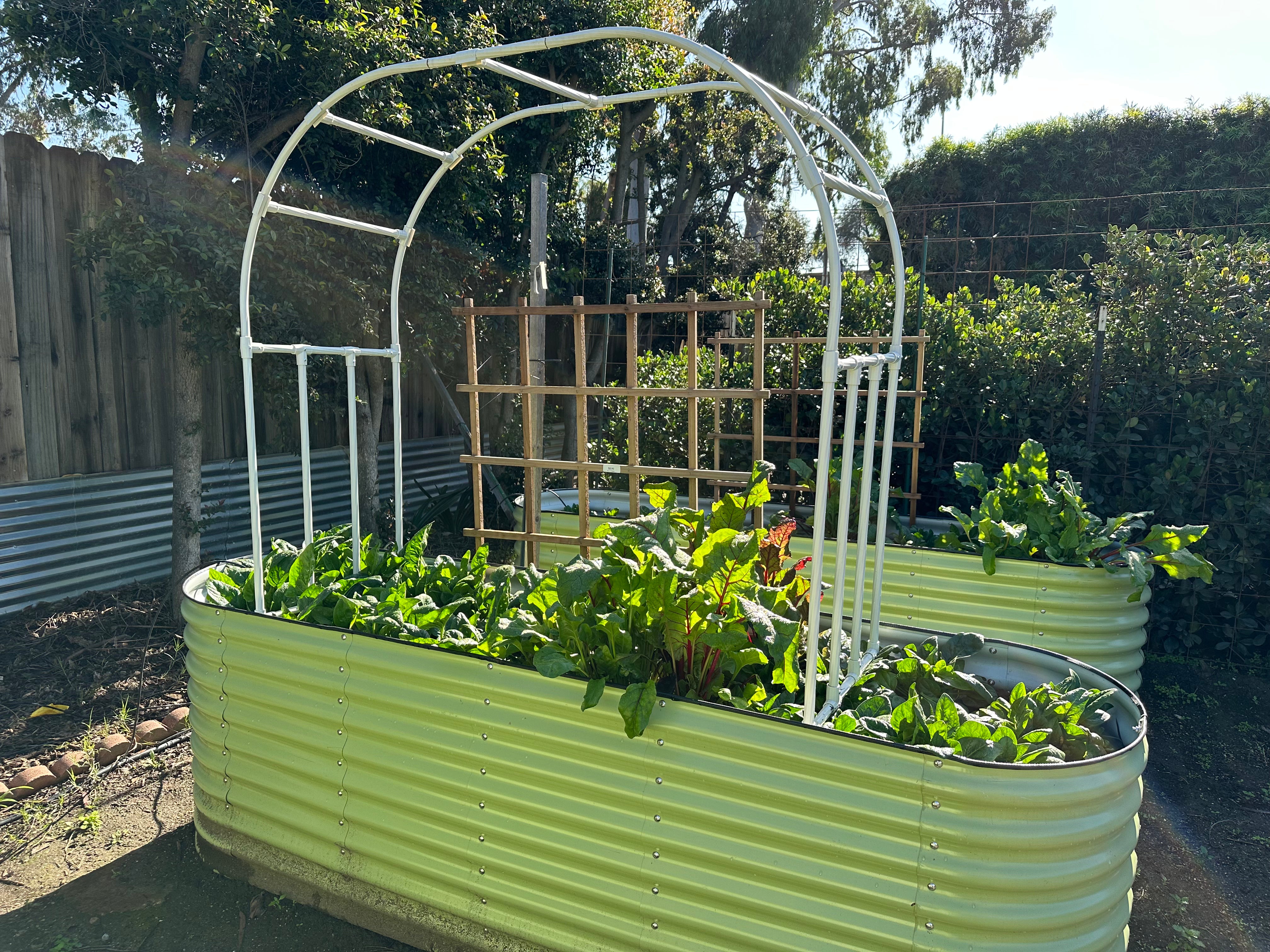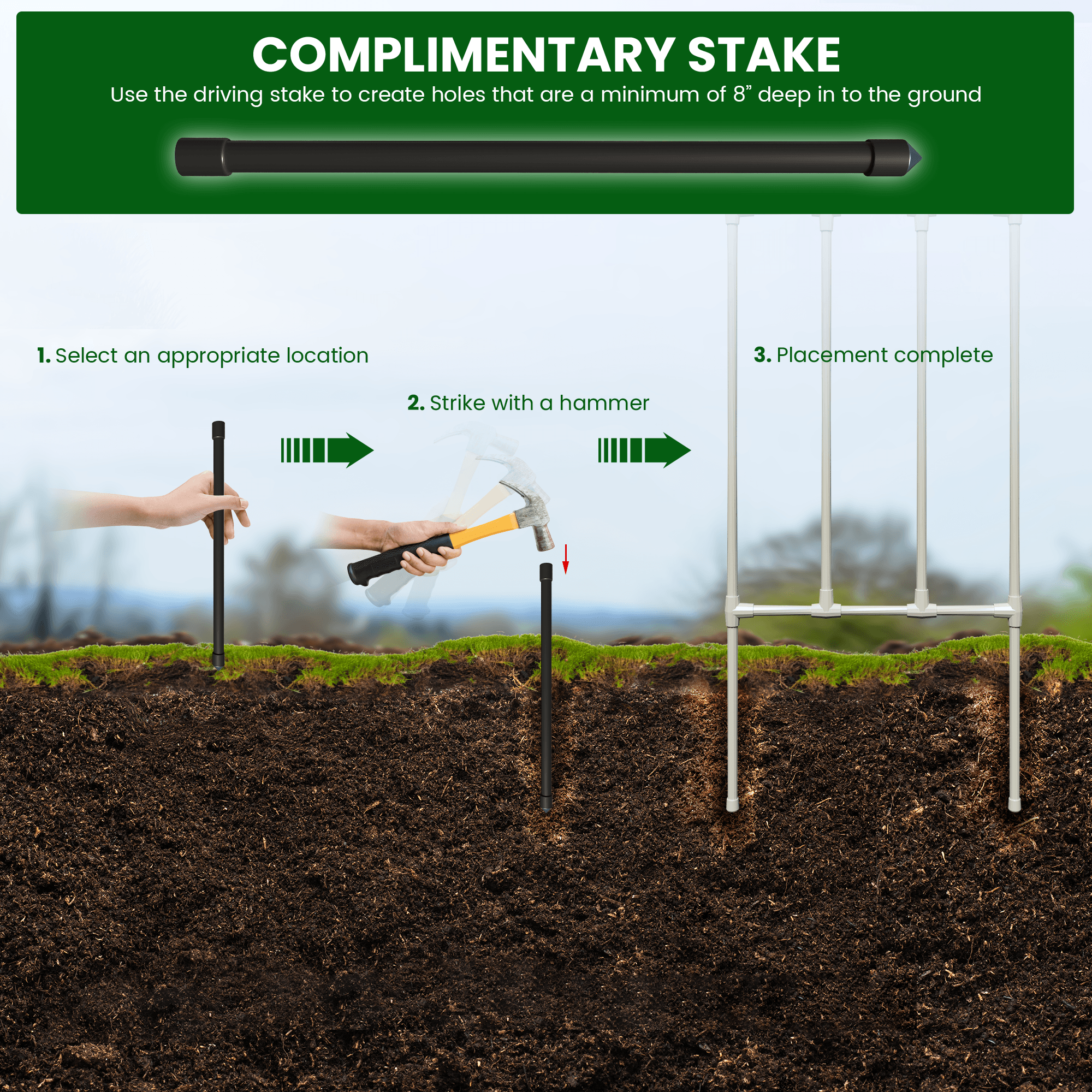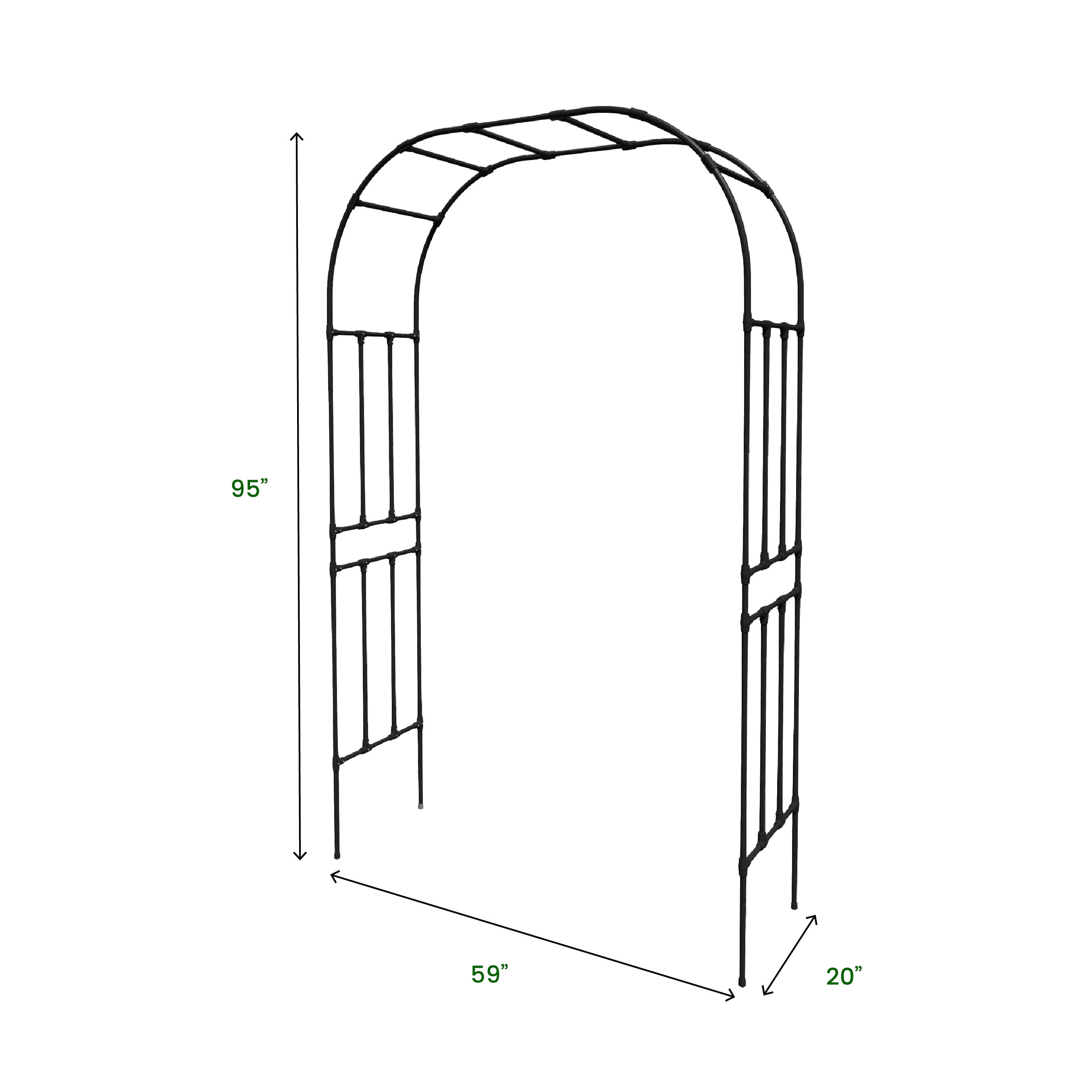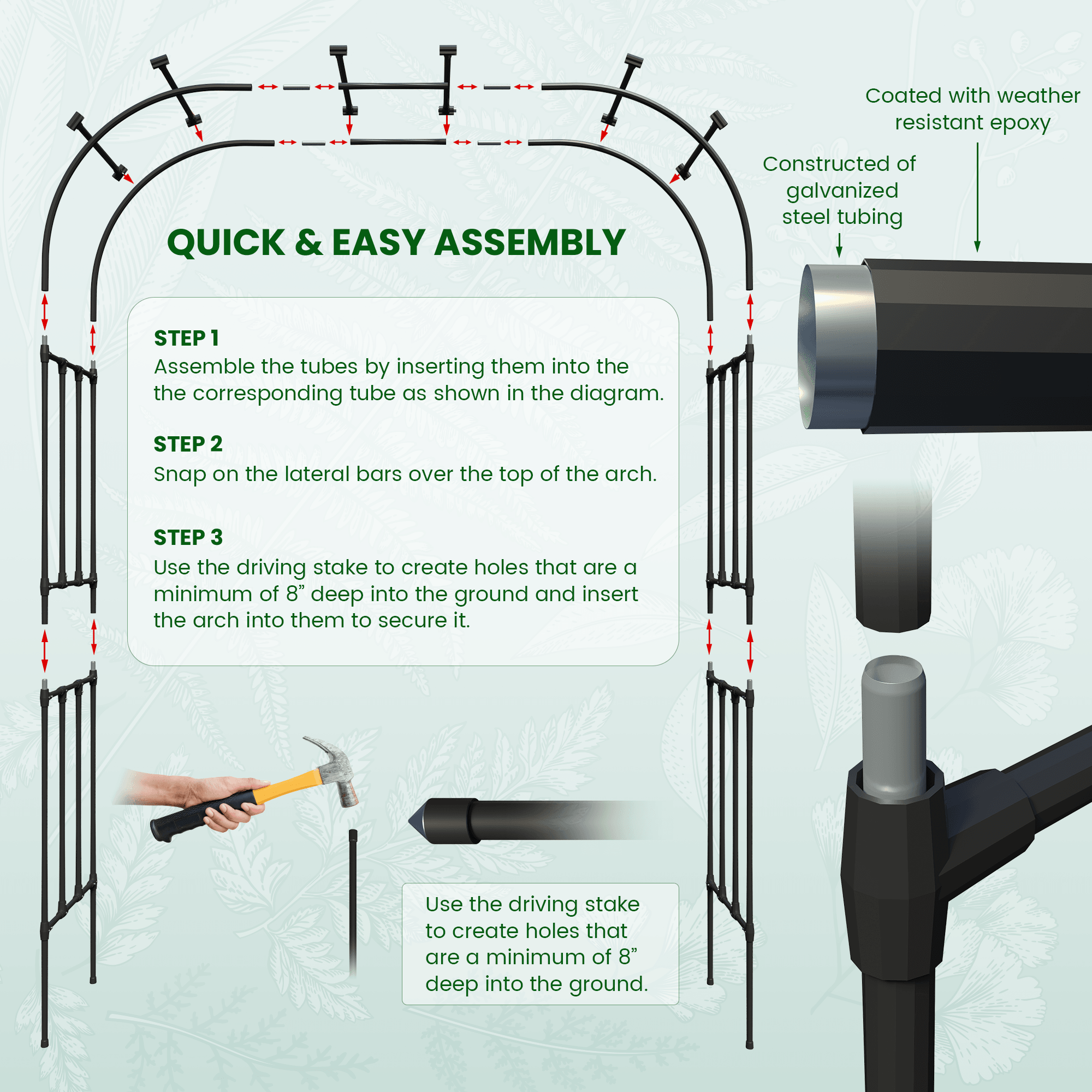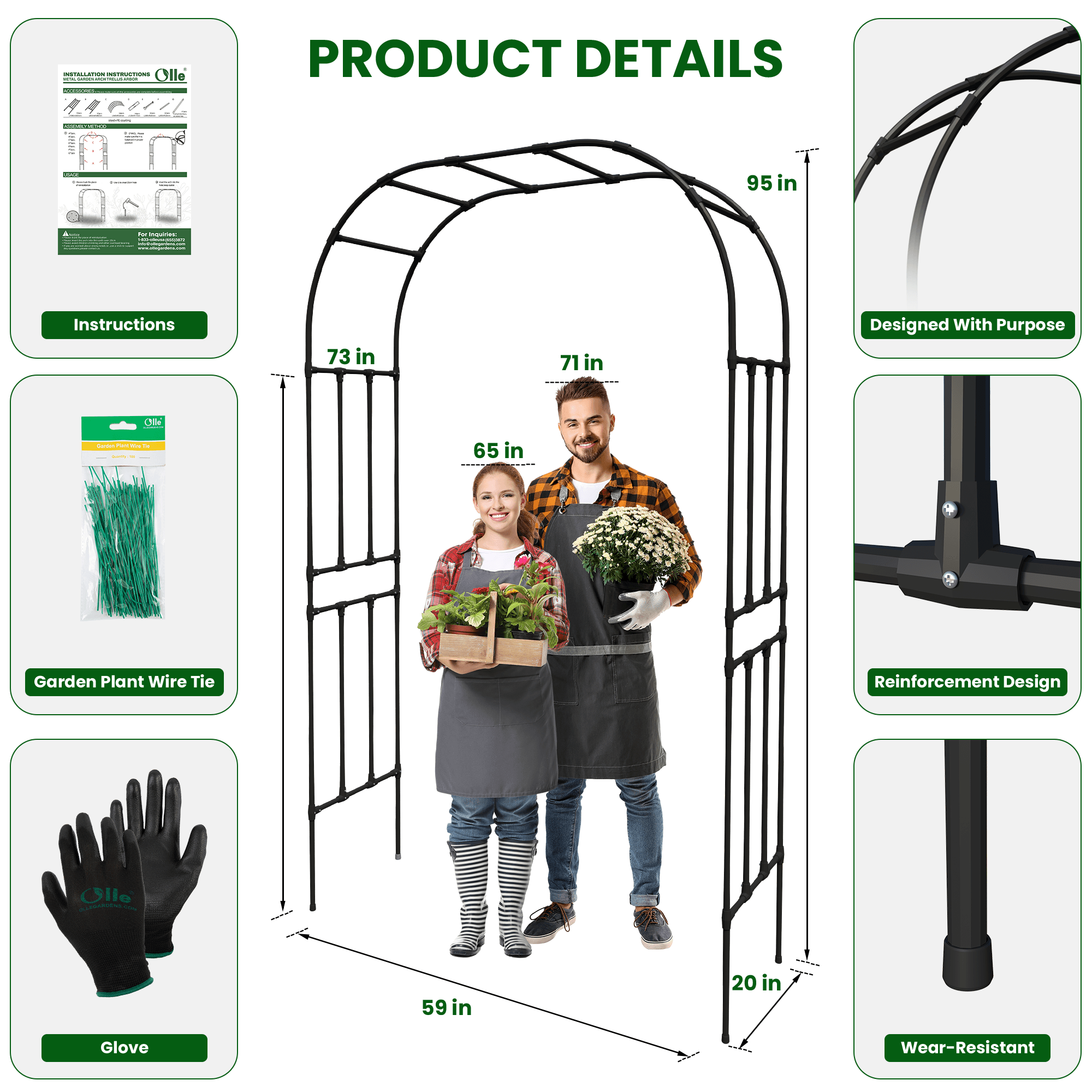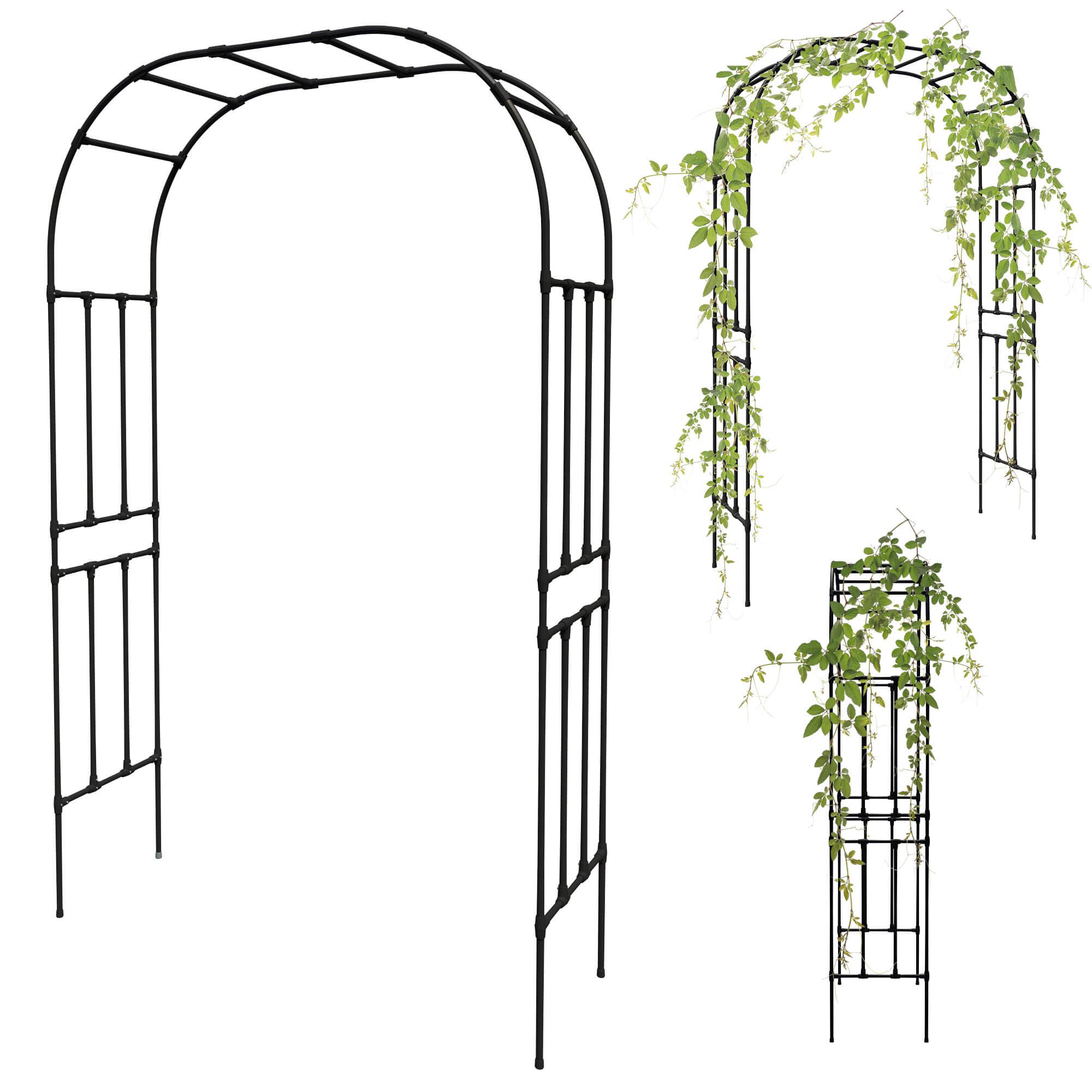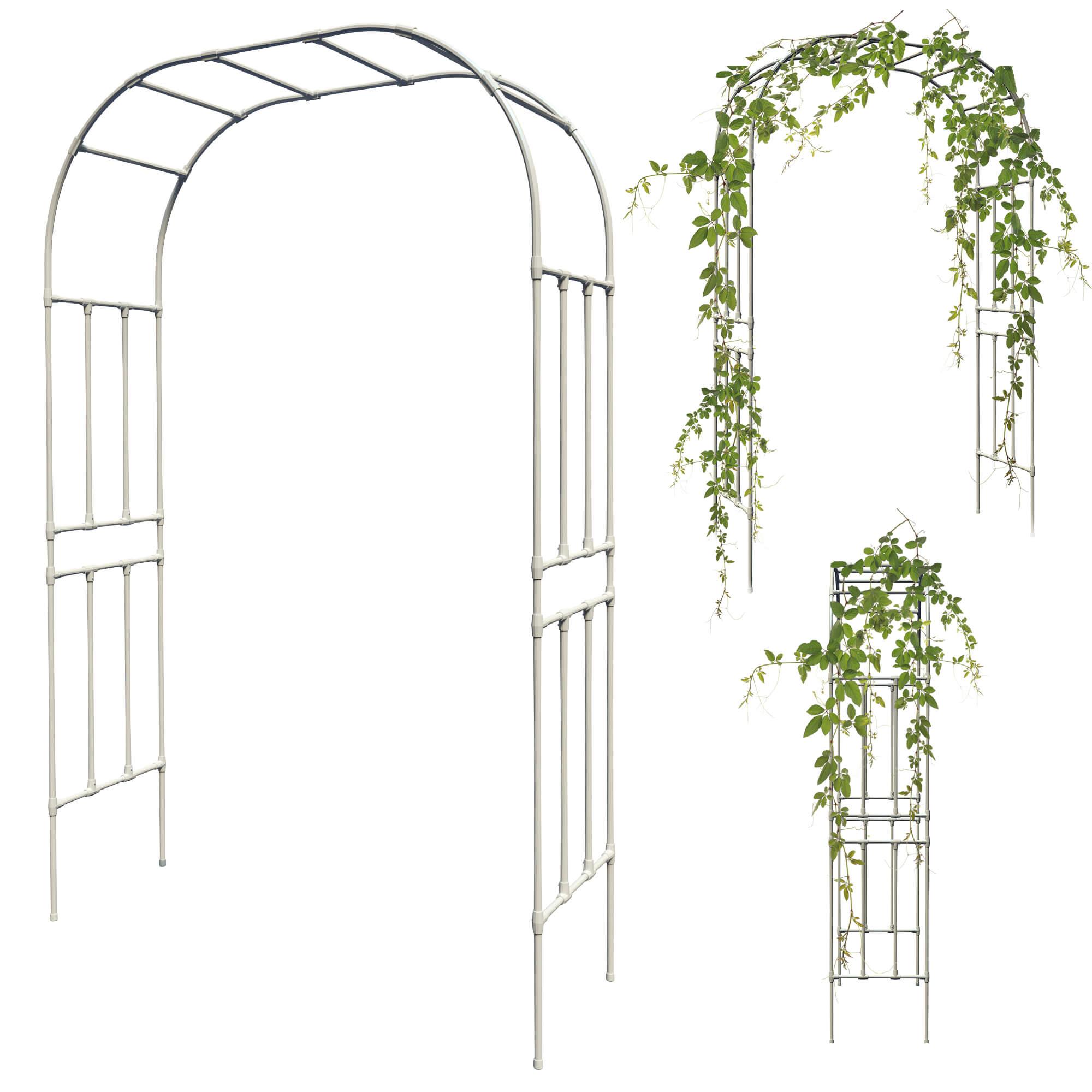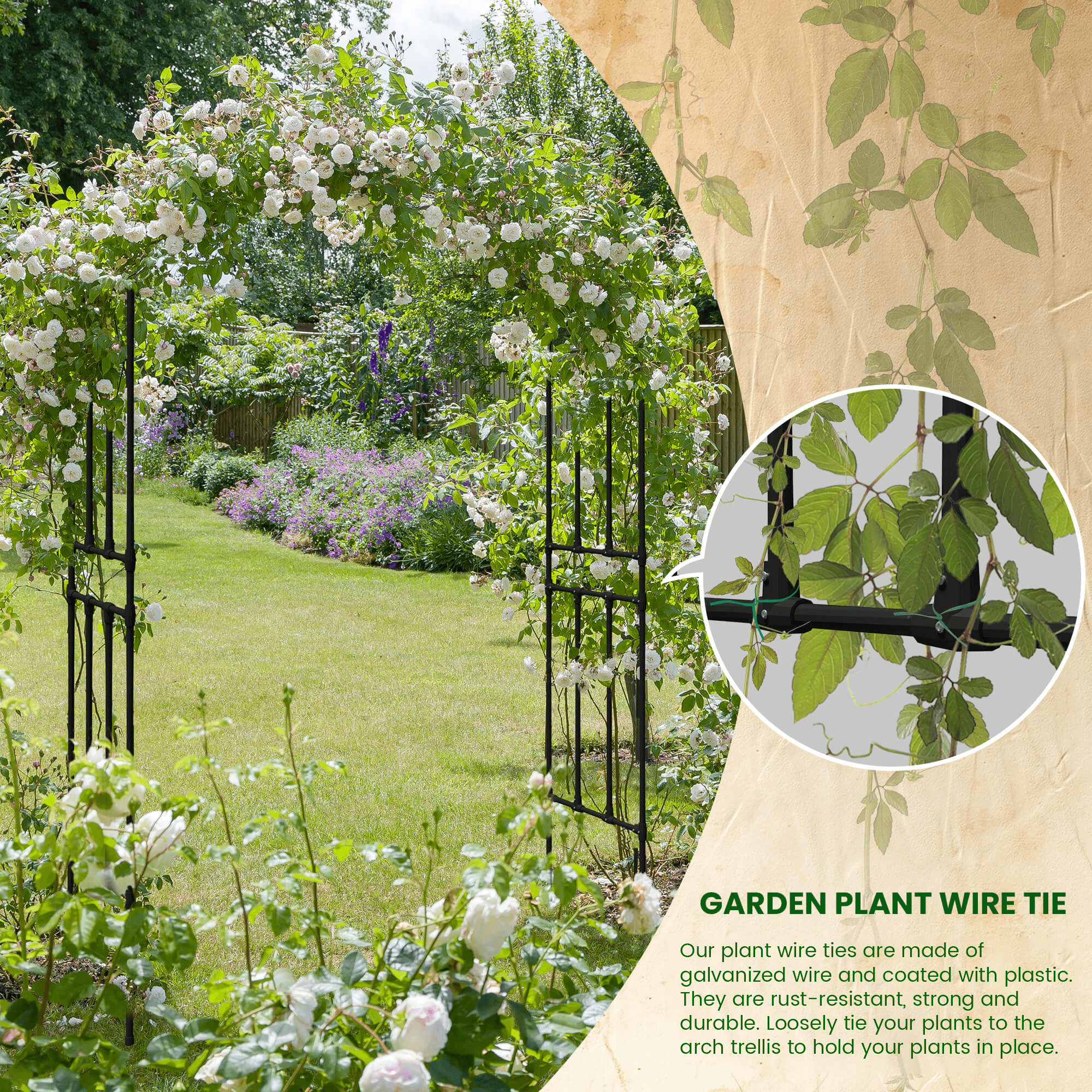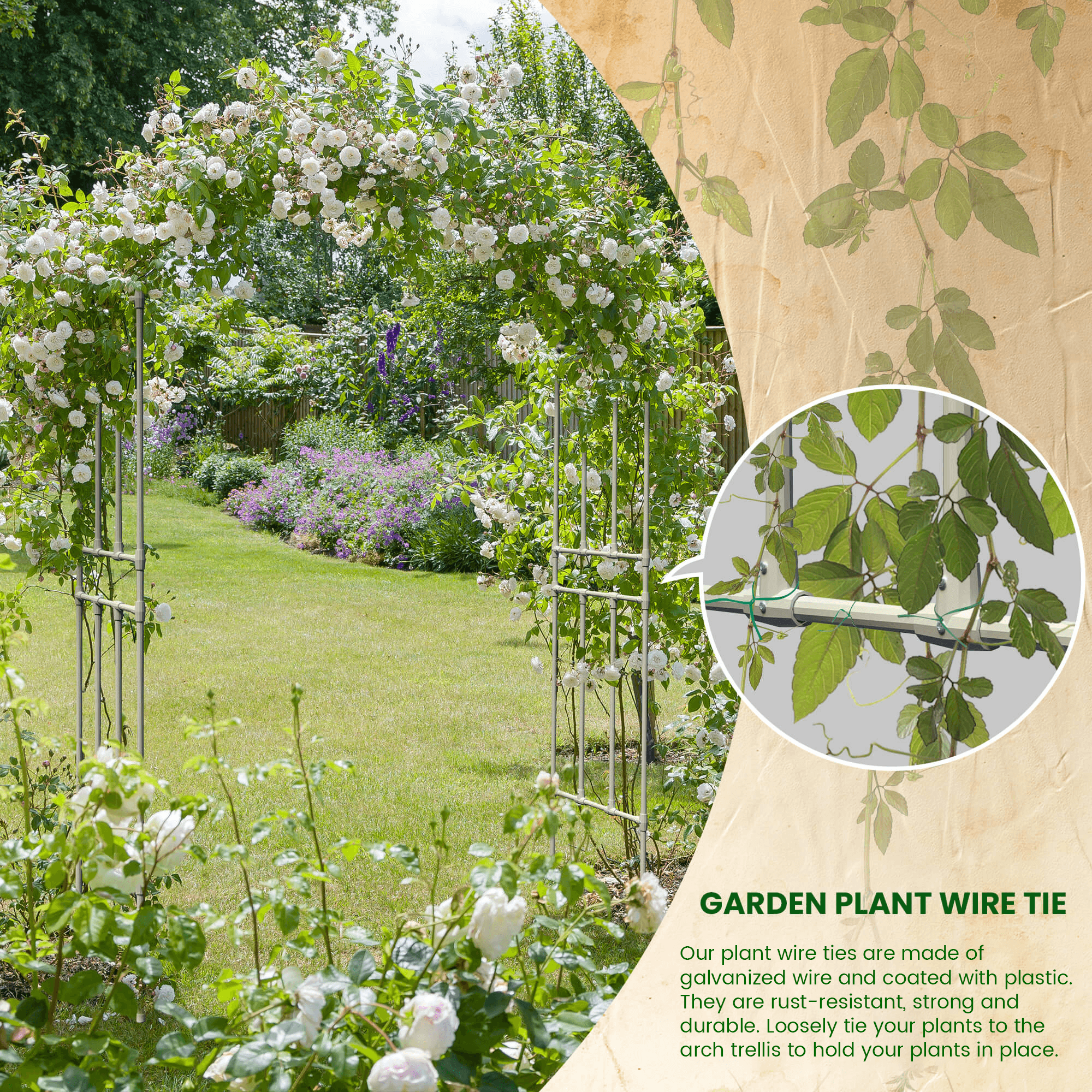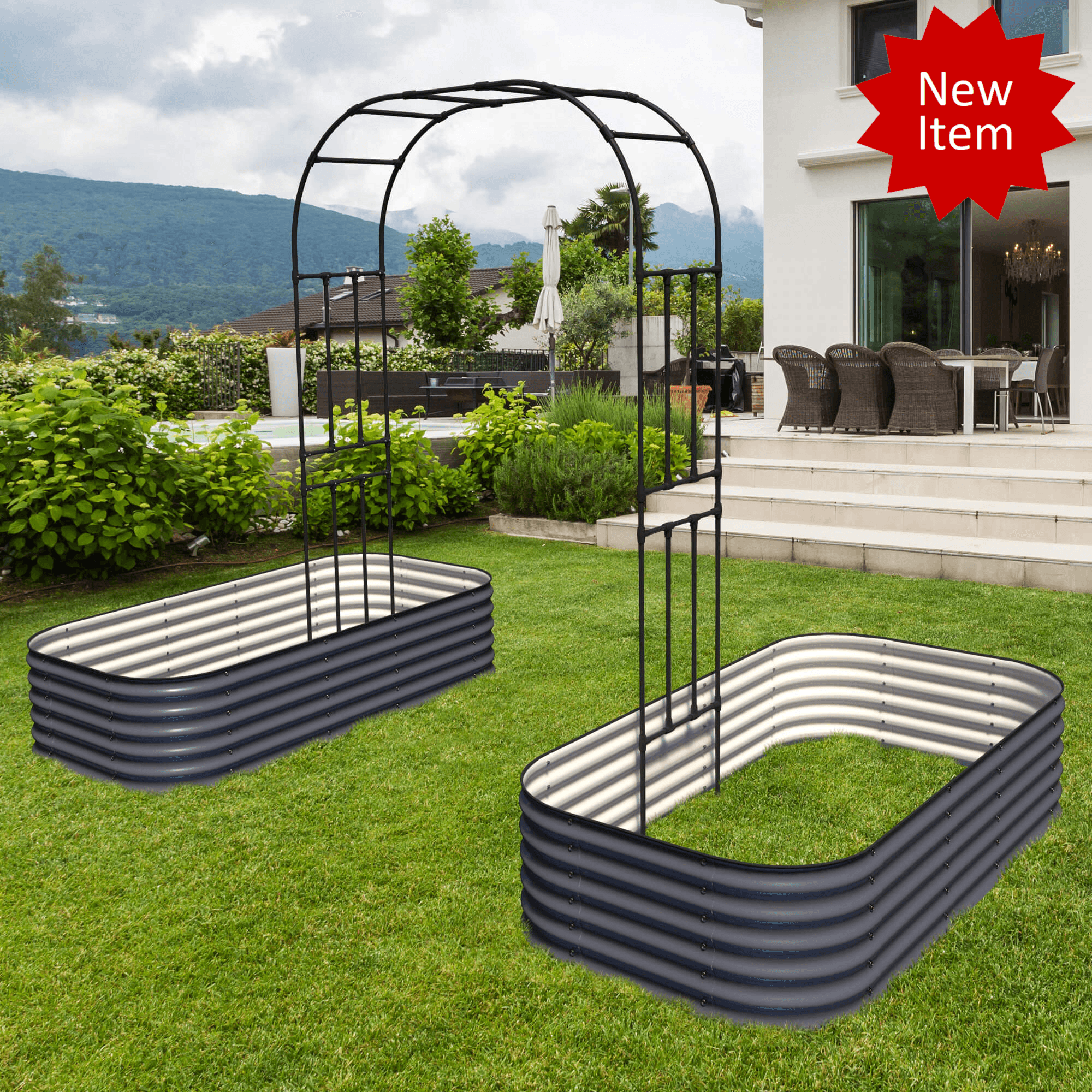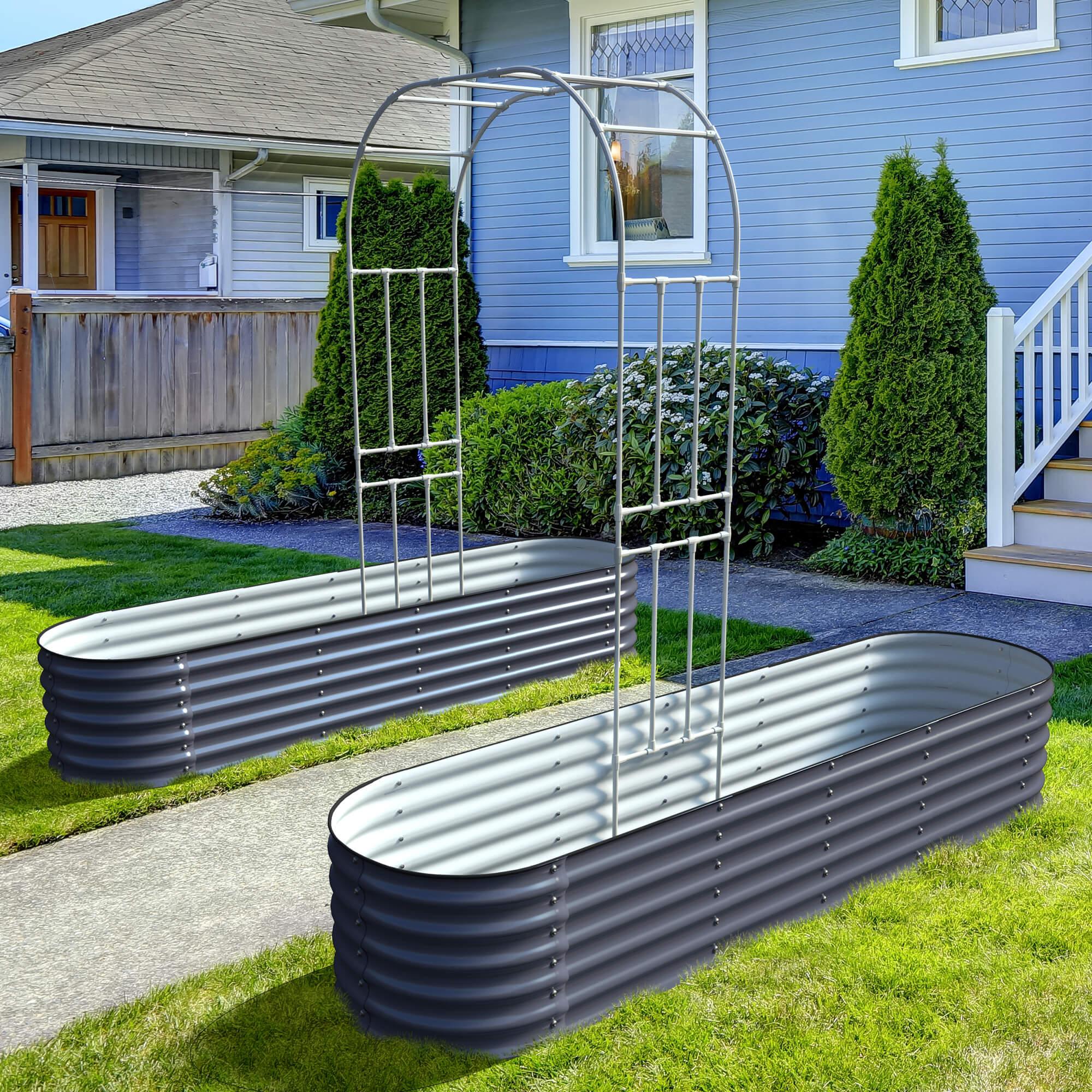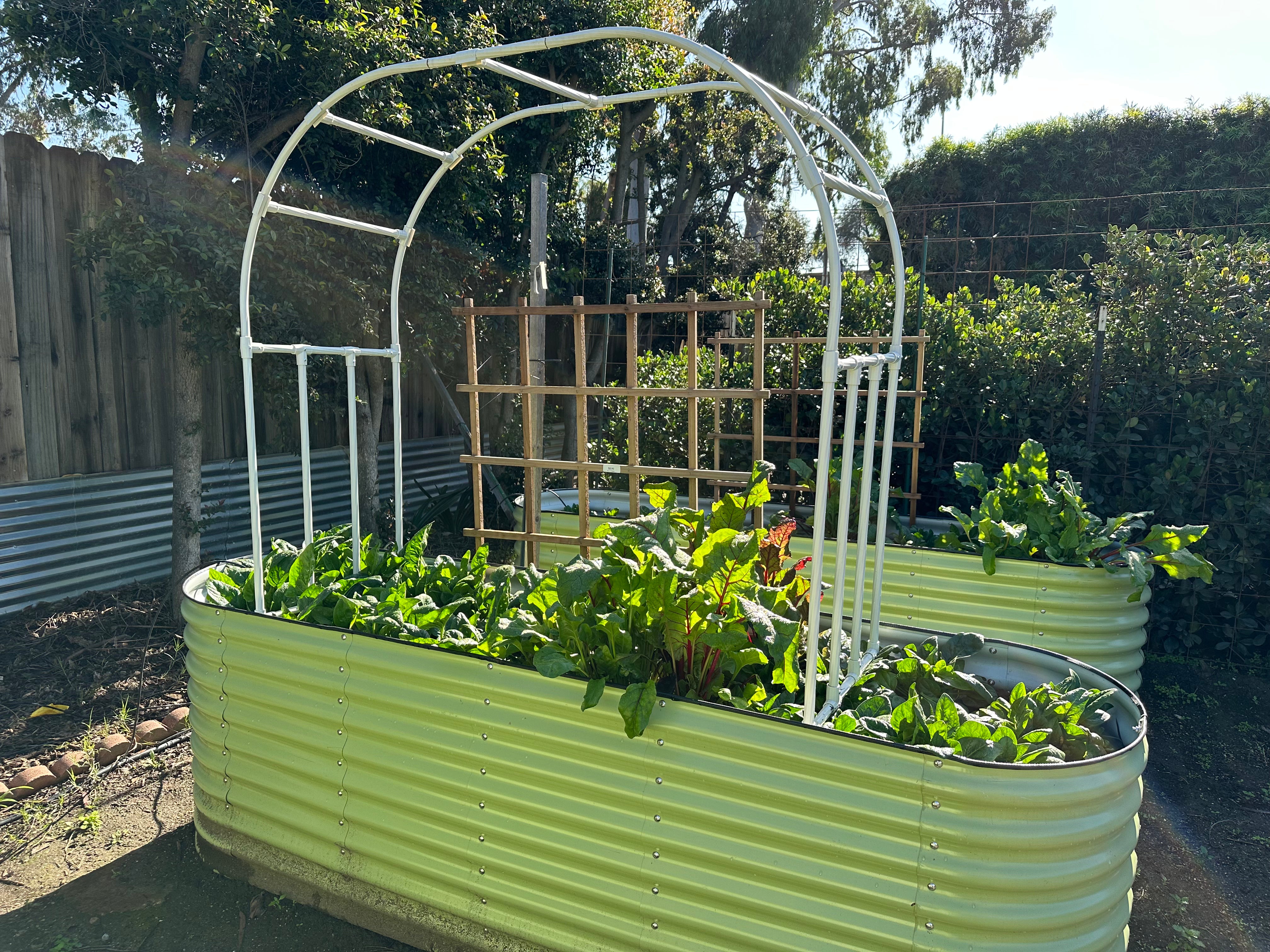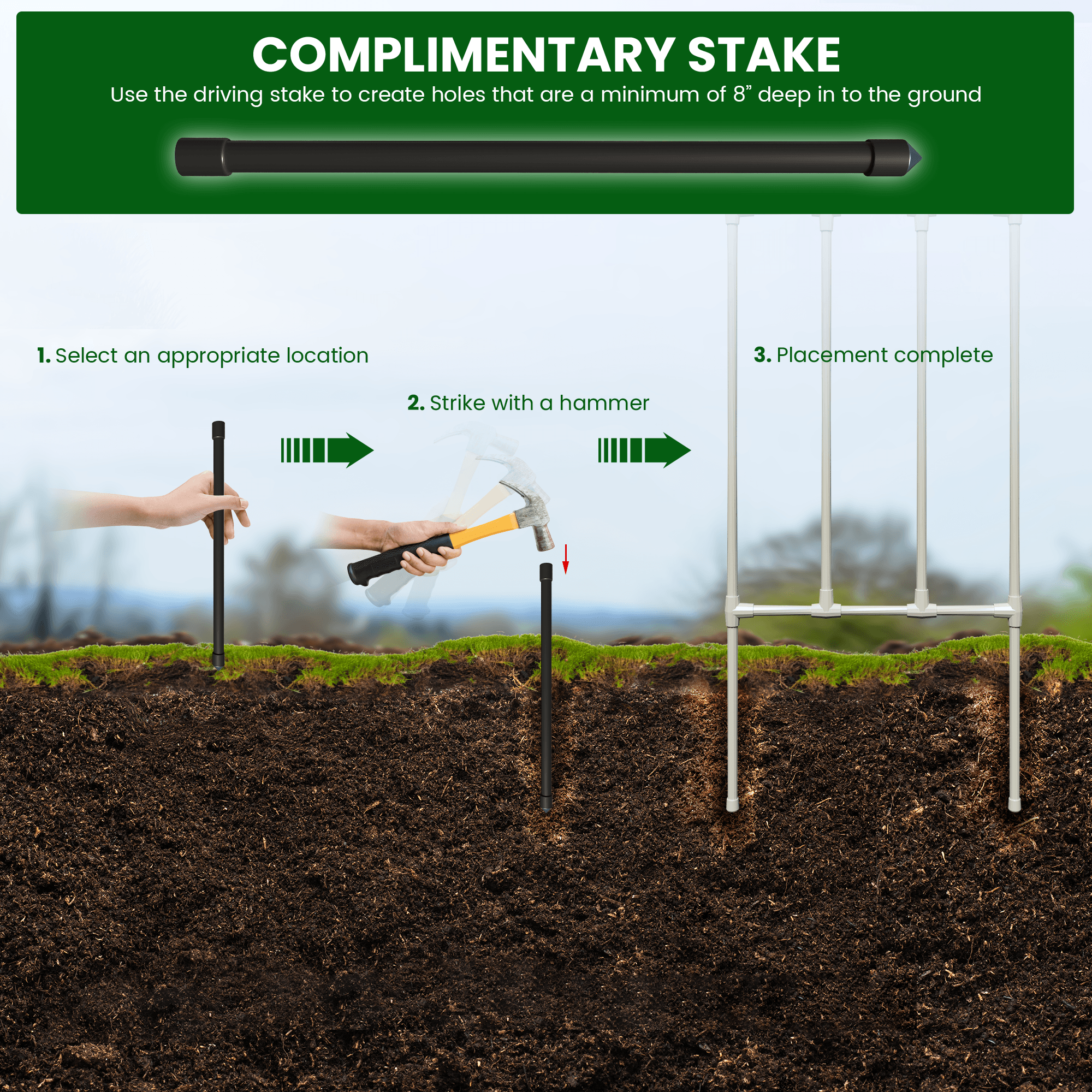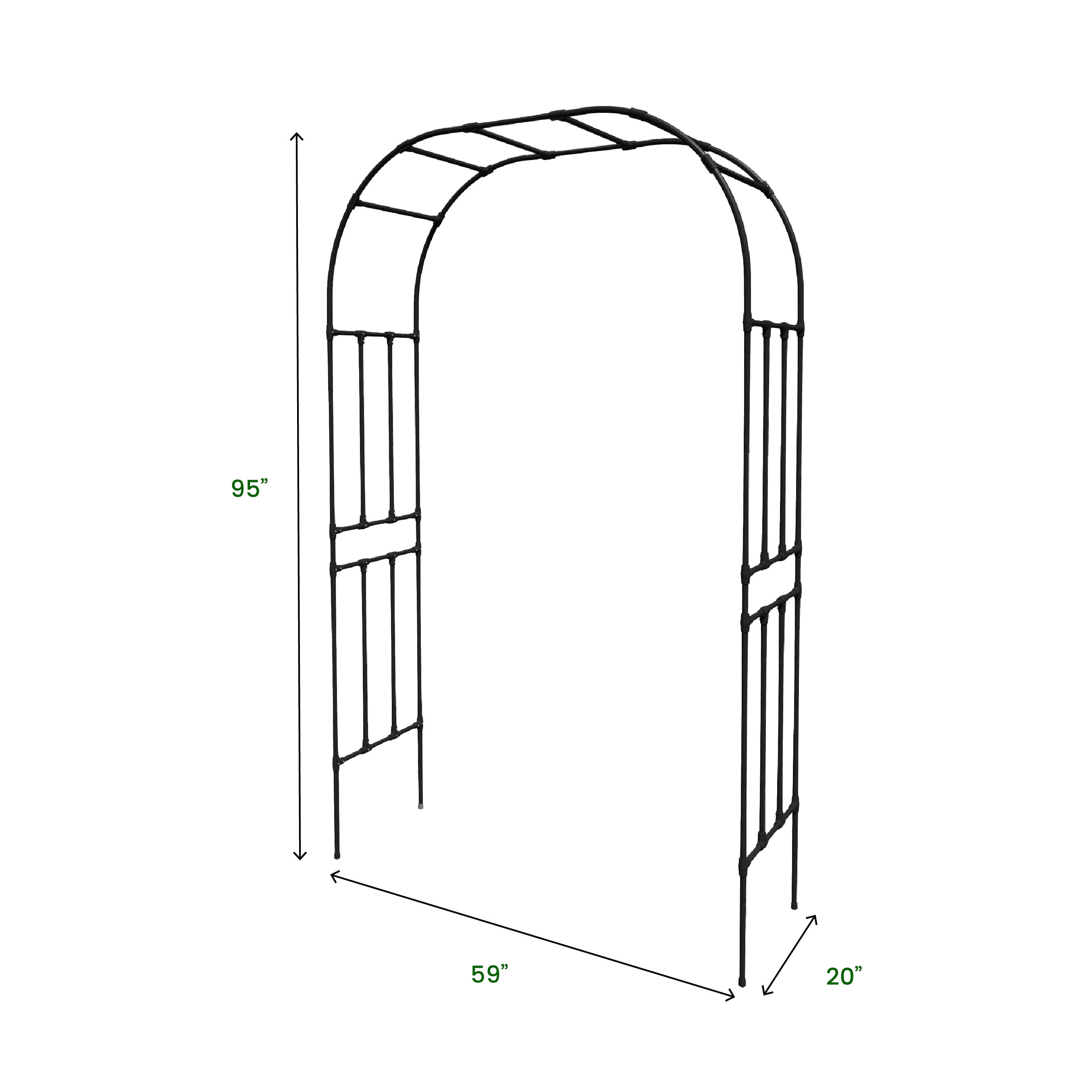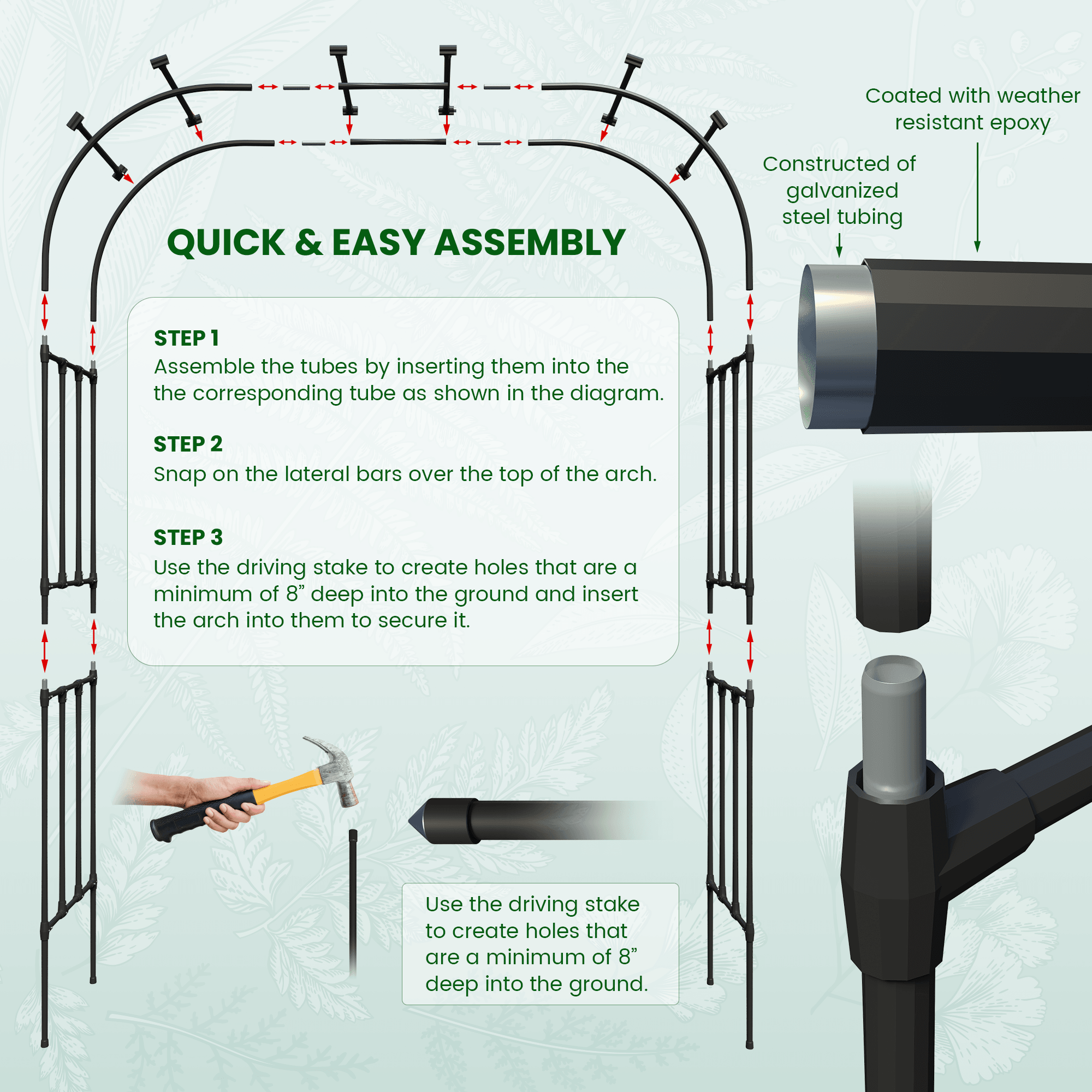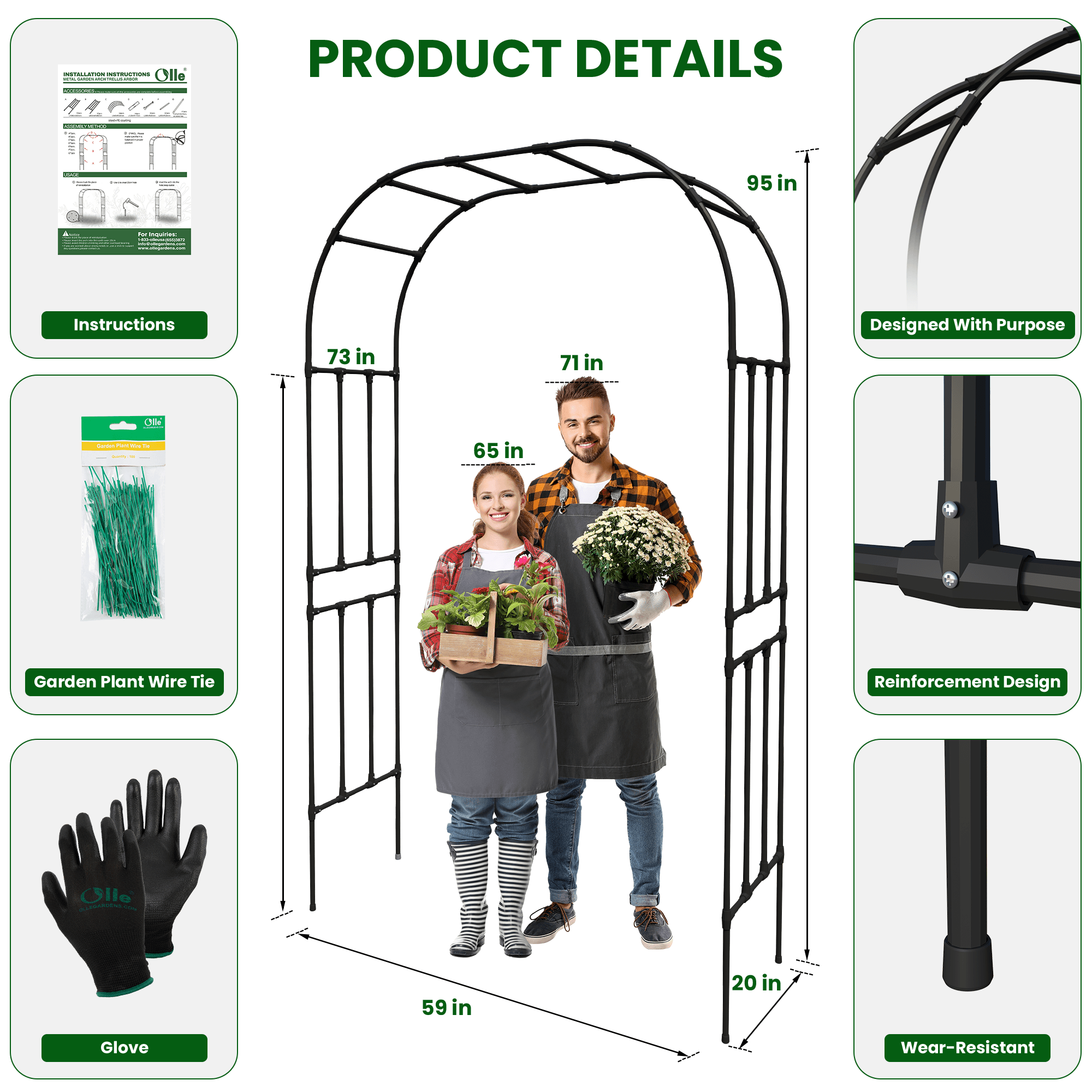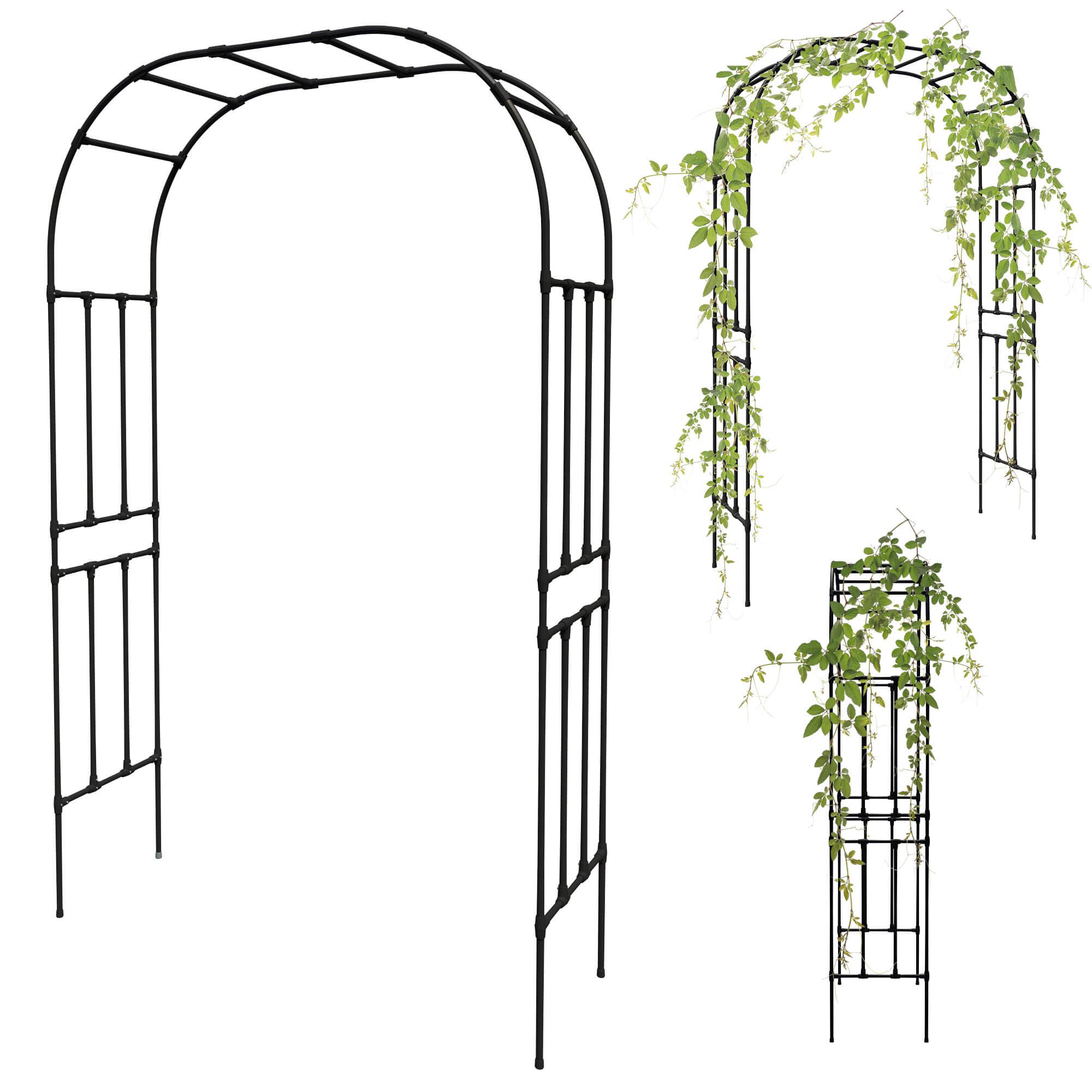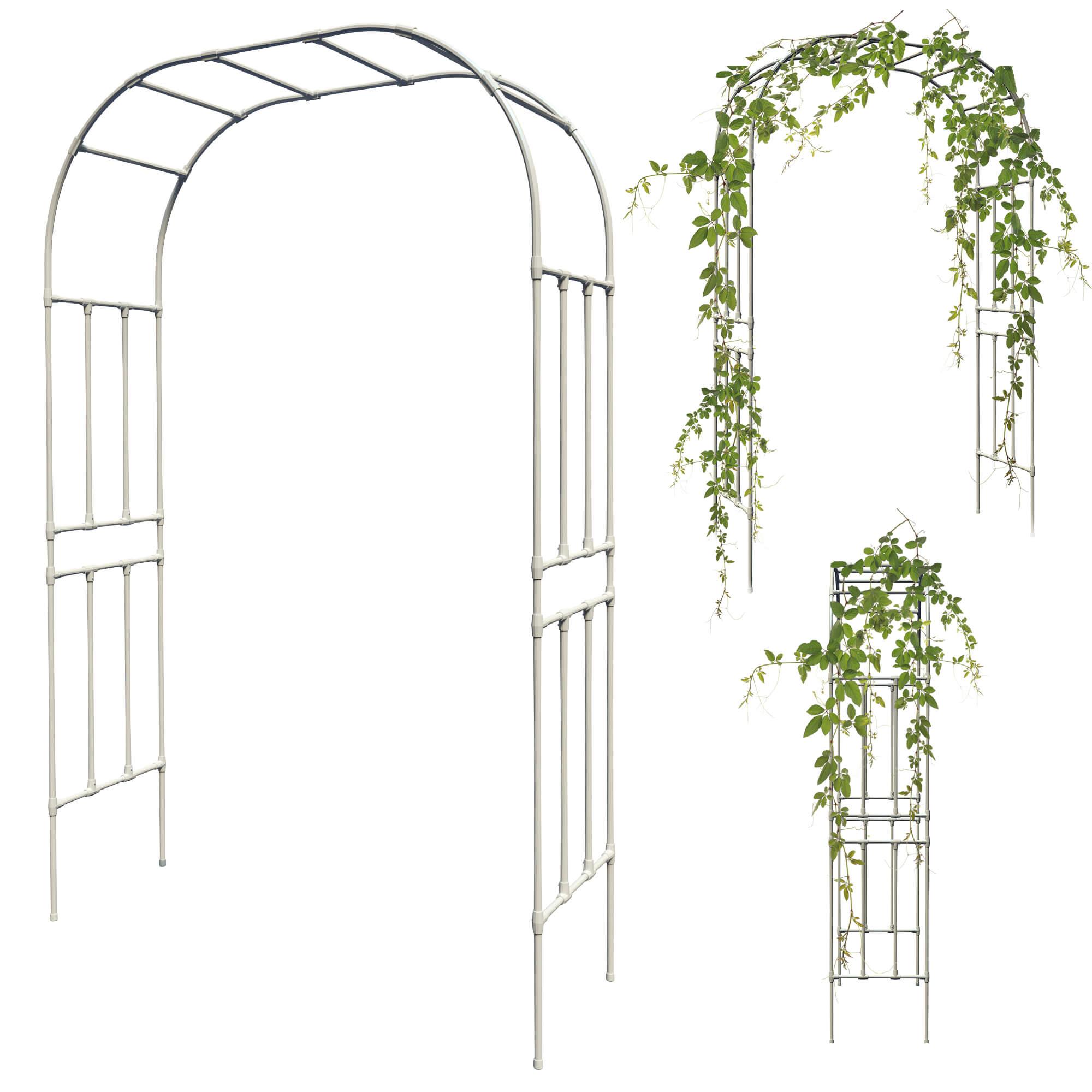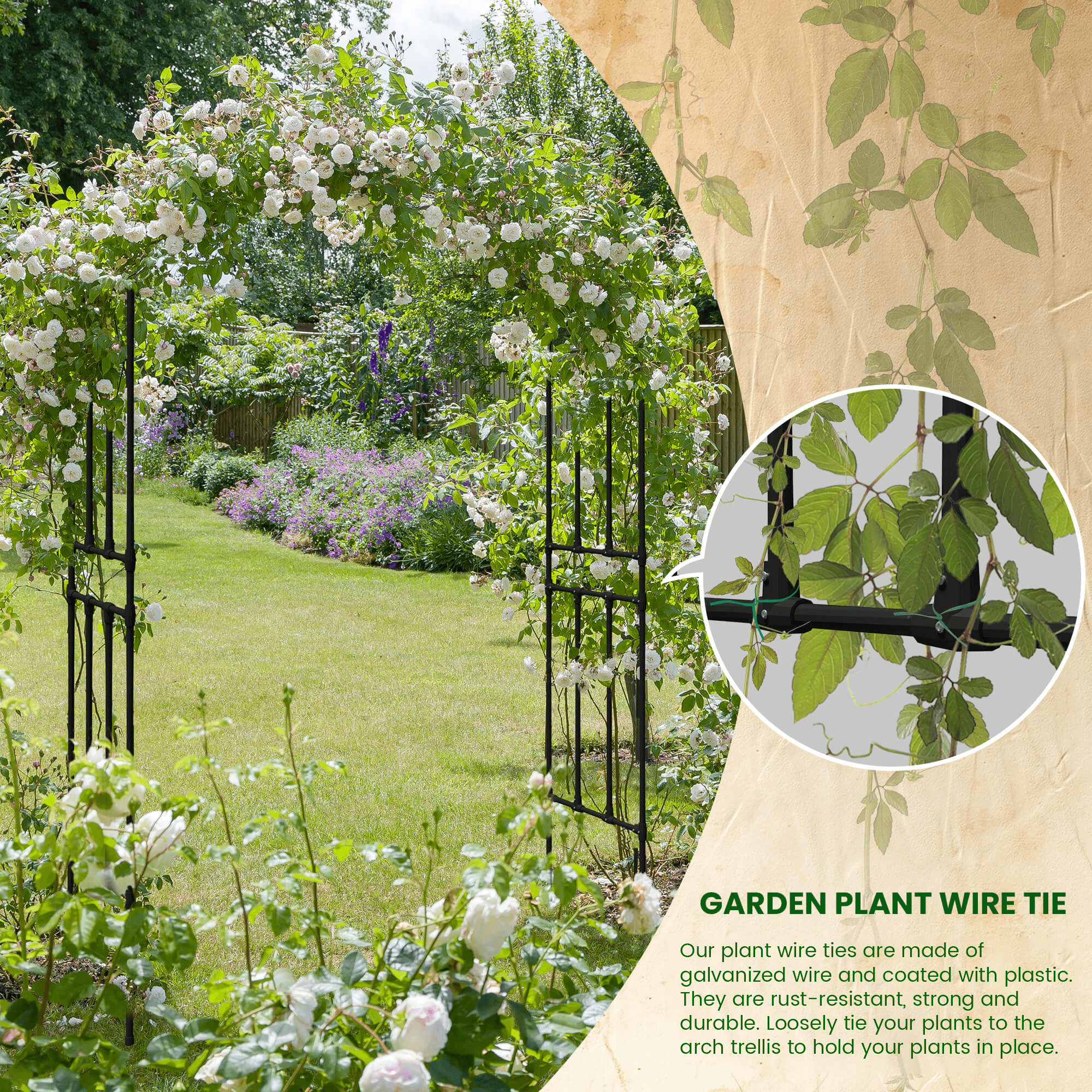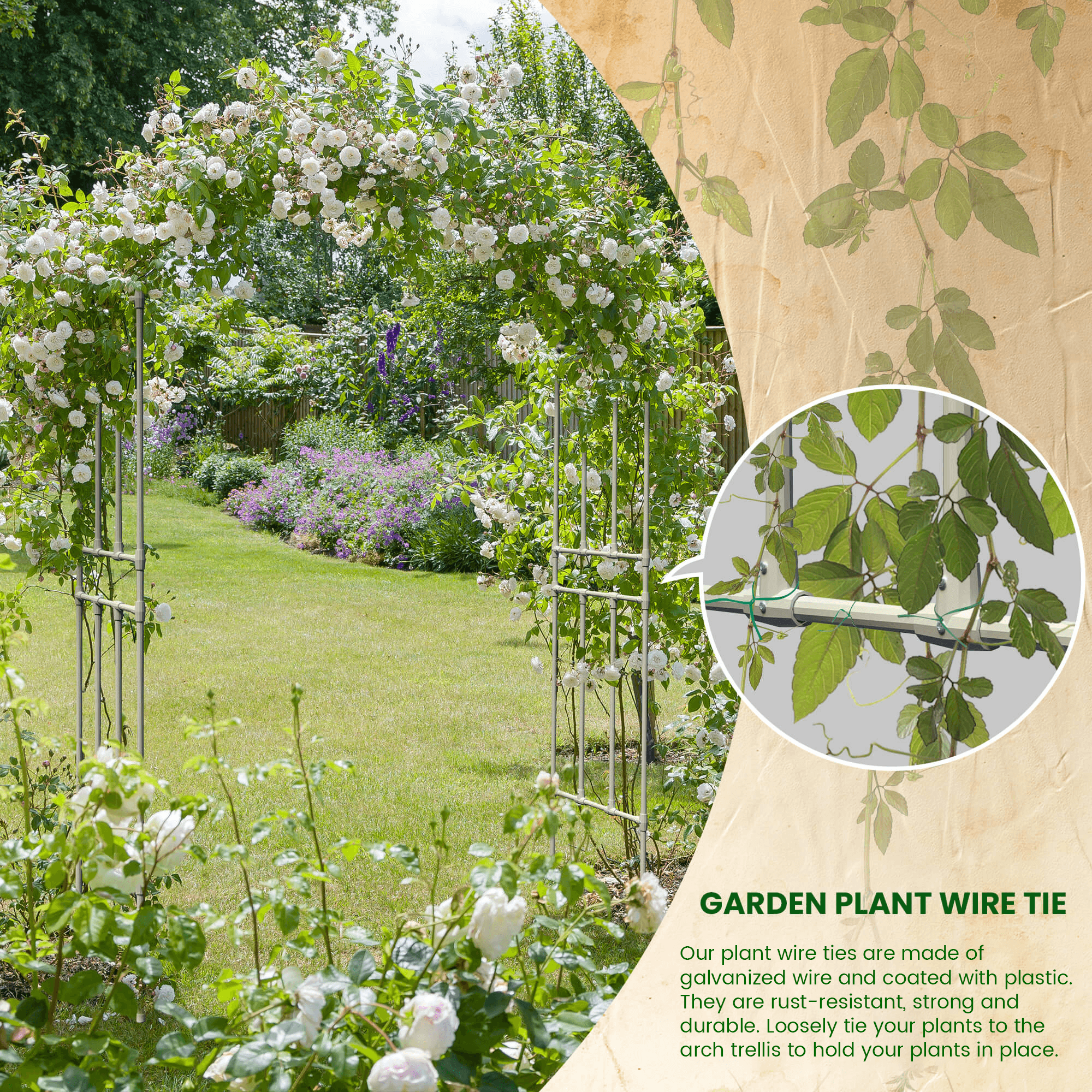 OLLE Garden 95" High 59" Wide Arch Trellis
In Stock
Free Shipping
Olle's Heavy-Duty Garden Arch Trellis
Dimensions: 95" Tall x 59" Wide x 20" Depth

Want to make your climbing plants grow better?

Olle's heavy-duty garden arch trellis is perfect for climbing plants and flowers. Manufactured from galvanized steel coated with polyethylene, these arch trellises are rust-resistant and are built to last. Extend your growing space and expand into vertical gardening with our arched trellis to provide space for additional plants in your metal raised garden beds.

With a strong arched structure, its simple design blends well into your garden and provides practical support for vines and climbing plants. A versatile arch trellis that can be used in different shapes and for different purposes.
Designed With Purpose
Having multiple lateral poles over the top of the arch trellis provides a sturdy structure and a practical support for plants.
Reinforcement Design
The reinforced joints make it stronger and less prone to deformation and damage. The joints are double-wrapped to keep them from rusting.
Wear-Resistant
The ends are wrapped in polyethylene to protect them from fraying.
Easy to Assemble
A quick and simple assembly. We provide a complementary stake to help you secure the arch trellis to the ground.
Sturdy & Hard-Wearing
Constructed of galvanized steel tubes and coated in weather-resistant epoxy. Strong and rust-resistant.
Multi-purpose
Its simple and understated design works in a variety of settings and for multiple purposes, whether you are planning to plant climbing roses or vines in your garden, or want to jazz up your venue for parties or gatherings, such as photo backdrops, outdoor party decorations, weddings, our garden arbor is a good choice.
4 pcs
corners 24"
4 pcs
Short Panels 16"
4 pcs
Long Panels 20"
132 sets
Washers and Nuts
1 ste
Wrench Tool
1 set
Rubber Safety Edging
Ivory Galvanized Raised Garden Beds
Midnight Gray Raised Garden Beds
Cobalt Blue Raised Garden Beds
Sage Green Raised Garden Beds
Ask Customer Service
Address: 825 W. Walnut Street, Compton, CA. 90220

Phone: 1-833-655-3872
Email: info@ollegardens.com

If there is anything we can help, don't hesitate to contact us by filling contact form below:

Much larger than I expected and was easier to assemble than most reviews mentioned.
The Arch Trellis has transformed my garden. It's not only functional, but also adds a beautiful architectural element to the space
OLLE Garden 95" High 59" Wide Arch Trellis
Trellis 2023
It's beautiful, can't wait to plant flowers to make an outstanding art deco in my backyard.
I used this instead of a gate in my front yard. I'm training some Jasmine to grow up on it, I really loved the option to make it taller or wider! It fits perfectly where I want it. I highly recommend it!
These metal support rods are a lifesaver for my metal bed! It is very simple to install and takes only a few minutes. They are cleverly designed to prevent deformation and bending of the bed.
I took a chance on this arch and it worked great! I've not had any issues with it bending or acting like it might break. I've had it outside for a year now
LOVE IT !
It was easy to put together, and its so sturdy
It was easy to put together, my friend & I put it together by ourselves. And then decorated it with her colors of Lavender, Purple & Moss Green. I would highly recommend this product to anyone.
We used this for an outdoor wedding, and it was beautiful. After the wedding I took one section off of the bottom, and I've been using it in my flower bed where it looks absolutely amazing.