15 Awesome Garden Designs for An Raised Bed Garden
Raised beds give children in the house a sense of personal space. They are fun, easy to make and require minimum cost. Making a raised bed is an awesome adventure for your child that will teach him or her how to be responsible, not just with cleaning their room but also as a part of household tasks. Even a small raised bed of strawberries can be made in no time!

An Raised bed garden is kind of like a raised-bed garden, with one major difference: instead of being several inches above the ground, it's several feet. And, instead of using a frame made from treated lumber, you can use old dressers or wooden crates. The high density of plants you can grow in the area of an elevated garden bed plus the lack of soil compaction means that your plants are able to grow with fewer pests, and using less water by growing in a more optimal environment.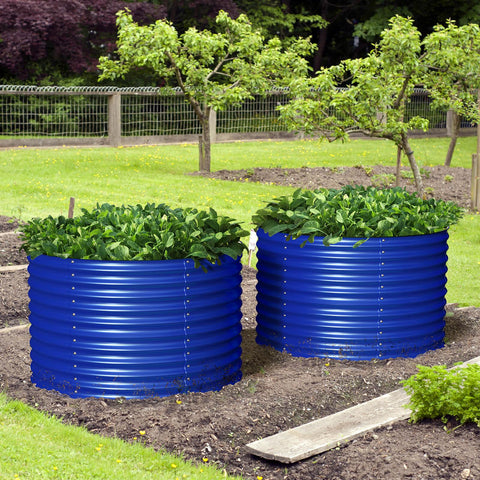 Here are some of types of raised garden beds

01. Custom-designed raised bed
Elevated bed gardens can accommodate almost any space. With a little creativity, you can create an entire garden sitting area. This multi-storey elevated bed combines the simple straight lines of Peter Donegan's landscape. It comes with a potting shed and a lamp post. By adding a bench section, such as the one at the end of the front bed, you can provide seating for an outdoor dining area. With the filling of plants and the weathering of wood, this garden will take on a natural, rustic look.

02. Built-in loft bed
When making a raised bed, you can place it in the sun or shade that is best for the plant you are planting, rather than going underground. You can also prevent tunnel pests from destroying your plants. Plants can be healthier and more efficient on elevated beds because you can control the quality of soil and drainage. If you build the sides wide enough to make a bench, you can even sit and garden. For those with back problems, positioning can make it easier to care for plants. Elevated beds in brick or wood can also enhance a homestead or backyard design, as shown in the image.

03. Planting bag loft bed
Another big advantage of elevated bed gardens is that they sit above the underground frost line, so the soil warms up faster in the spring and you can start planting sooner. The material used for the bed is different here: the metal absorbs more heat from the sun. But planter bags are a good choice because they don't freeze solids and the soil in them thaws fairly quickly. Plus, it's a great way to provide the calories needed to grow Mediterranean plants like sage and lavender. Planter bags seem too easy; But in a few minutes, you can have a great loft bed garden!

04. Vanilla Spiral garden
Spiral gardens are a popular permaculture technique. They increase the amount of acreage available for planting without taking up more ground space in the garden. You can easily build them out of stone, brick, wood, or just pile up soil. The unusual shapes and swirls of the plants are dramatic focal points in your garden. Herbs are preferred plants, but you can grow just about anything using the spiral design.

05. Metal garden bed
One of the easiest ways to create an elevated bed garden is to use a metal garden bed. Easy to install, left empty at the bottom, can be good drainage and nutrient absorption. The metal gives the garden its industrial appearance and conducts heat, warming the soil in the spring. You can use new or used metal garden beds, depending on availability and the look you want. Depending on the product you choose to grow, the plant may need some extra water during the hottest part of the summer.

06. sq ft loft bed
Square foot gardening involves dividing the planting area into small square sections, usually 1 foot per square. The goal is to produce a densely planted vegetable garden or a high-yield vegetable garden. This can be measured and divided with various materials, including nets.
Using raised beds to grow vegetables controls soil quality and prevents compaction. Vegetable roots can grow unhindered. The bed doesn't have to be high off the ground to get the benefits of being on a loft bed. Even 6 to 8 inches is enough.

07. Flower box as loft bed
Loft beds have few restrictions. If you have a sturdy fence, you can use wooden boxes as small loft beds; It's like a window frame, but on your fence. These look good all year round, filling up with annuals as perennials stop flowering. During the winter break, you can also decorate these areas with seasonal greens and decorations as a unique decorating idea.

08. cinder block loft bed
There are many ways to build raised beds from recycled materials. Concrete blocks or cinder blocks are the most popular type. Note that some older cinder blocks may contain fly ash, which is the "cinder" left over from burning coal. Whether it is safe to use around edible plants is still being debated. Ash problems can be avoided if you obtain new blocks made of concrete. The new blocks are much heavier than the old cinder blocks, but can be used in vegetable gardens. Be careful though - concrete blocks can leech lime. Lime can raise the pH of the soil. To be safe, use plants that thrive in alkaline soils. These sturdy succulents and sestas are hardy and not too fussy about the soil, making them a good choice for these growers.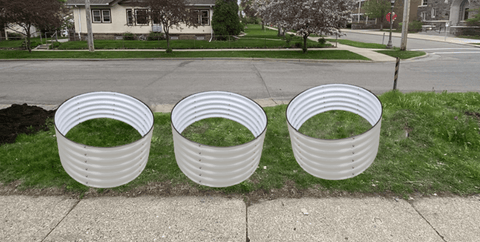 09. Hoop house loft bed
With some advance planning, you can create a multi-season garden. Elevated beds offer you greater flexibility to control growing conditions in your garden and make it more difficult for animals to access your vegetables. If you build a hoop house on a loft bed, you can be prepared for any weather, handle frost, and give yourself a head start in the spring. The lightweight mesh is strong enough to hold the cloth covering in place when frost forms.

10. Frame of raised bed
Elevated beds are an excellent choice for a steep yard. By building the bed in the lowest section, you can create the illusion of a horizontal garden. Make your bed wide enough so that you can still have a layered garden with shrub borders at the back and plenty of room for perennials that will provide shades of color, texture and soft edges.

11. Space saving design concept
Gardeners with limited space can often be creative with elevated bed designs to make the most of what they have. A clever design places a wooden elevated bed box (made of recycled materials) on top of the bin storage area: adorning the usually drab area and bringing beauty to a functional area. Light strings and decorations add a personal touch.

12. Arbor with raised bed
Using trellises or gazebos with elevated beds makes it easier to harvest vegetables and is tidier than laying them on the ground. Vertical gardening allows you to grow more plants without taking up more space. Your design can be as simple as creating a basic frame by tying two dowel pins (or bamboo poles) together and tying them together. Other crops may benefit from stretching garden nets over trellis structures.

13. Lasagna garden loft bed
Lasagna gardens are essentially layered gardens that do not require digging, but the term has come to mean using materials other than soil beneath the topsoil layer. In this case, build a wooden loft bed, fill it with cut wood and grass clippings, and then add a layer of topsoil. This reduces the heavy weight and expense of using soil if your planting does not produce deep root systems.

14. Milk crate garden
Reuse the milk crate to make your loft bed easy to carry. If you need your plant closer to your kitchen, or you want to keep it in a shady place, simply pick up the crate and go. These containers already have drainage holes. And, when you need to replace the soil, simply lift the crate and dump the contents into the compost pile and start over.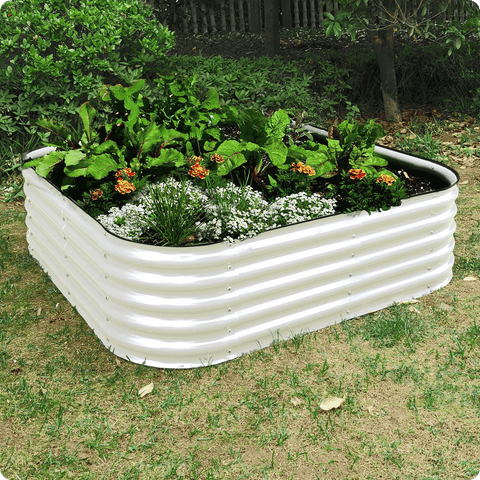 15. Raised bed and container design
Maybe you have brick loft beds and want them to feel fuller and more decorative. By placing the container just below the level of the brick wall, you can play with different levels, attracting the eye up and down, and allowing for an almost unlimited variety of sizes and shapes. You can even plan your plantings so as to provide four seasons of visual interest. The container can also be moved at any time to change the design.

These are just a few ideas for creative ways to make raised beds in your garden. It's a great feeling to repurpose materials into something useful, and gardeners are nothing if not resourceful. Elevated beds can help you make better use of your space and find new and often dramatic ways to grow food and flowers.