Small Garden Renovation Idea with Raised Garden Bed and Herb Kit
New year, new design of your small garden? You don't need to spend a lot of money to transform your outdoor space. Please remember to add a raised garden bed to start with and use a herbal planting kit for your small garden.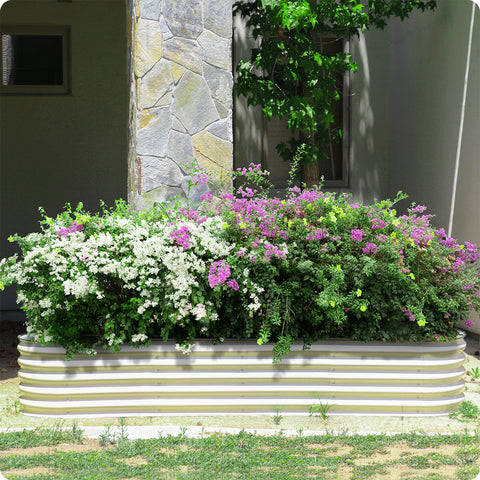 Eight ideas for transforming small gardens
A shady terrace
How about turning your often neglected yard into a shady terrace? Clean up the space to eliminate weeds and make room for courtyard furniture. You do not need to buy a complete set of courtyard furniture, and use the furniture that is no longer used in your home. If you are using new terrace furniture, please add items that can be reused or recycled, such as garden decorations, old wheelbarrows or buckets as the focus. The key is to create a comfortable seating space full of personality! Finally, define the sidewalk leading to the garden to make your shady terrace look and feel more warm.
Color-coordinated flower beds
Fill your garden with low-care flowering plants to make the space look lush and beautiful. The design of the garden is based on the color scheme, making the garden feel carefully planned and easy to appreciate. You can choose between contrasting or complementary colors.
For example, plant pink and green flowers that complement or contrast with blue and green. In between, plant ornamental grass to fill the blank space and give a full appearance. We recommend adding a large number of local plants to make the garden maintenance easier to manage. Compared with exotic plants, native plants have natural pest and disease resistance.
Front yard garden
Welcome your guests with a lush garden by transforming your desolate front yard. Remember, the front yard is the most prominent area in most houses. By transforming this space into a gorgeous garden, you can increase the value of the house and increase the attraction of containment.
The front yard is sunny in summer, so it is a good place to plant flowering plants. First, plan to plant different flowering plants in the front yard. Choose local plants instead of exotic ones, so the garden is easy to maintain. Prepare planting space by removing weeds and removing unwanted debris. Improve the soil with natural fertilizer and start planting different local plants. To further enhance the appearance of the garden, please define the sidewalk and path with flower beds.
Raised garden bed + arbor
Far from simple, but the idea of transformation will certainly enhance the appearance of the garden! Set up a shed in the shade of the garden and add a raised garden bed full of flowers, which will add much-needed color to the space and enhance privacy at the same time. You can plant flowering plants directly on the raised garden bed, or combine underground and potted plants on the elevated bed to get a more dramatic style, and then decorate the arbor with climbing plants in the hanging basket! Finally, put a few balcony chairs, and you can relax in a comfortable oasis.
Rainbow fence
If your garden space lacks color, here is a bright and sunny idea: paint the fence interesting, rainbow color! This is a perfect transformation idea, especially if you have children and pets. The rainbow color adds instant brightness and ease to the space. This is a quick and easy project that you can complete on the weekend. Use a small table and several chairs with colored cushions to complete the newly painted garden fence, creating a lovely terrace layout. Then, gather the children to stroll outside, sipping cold lemonade and enjoying the sunshine!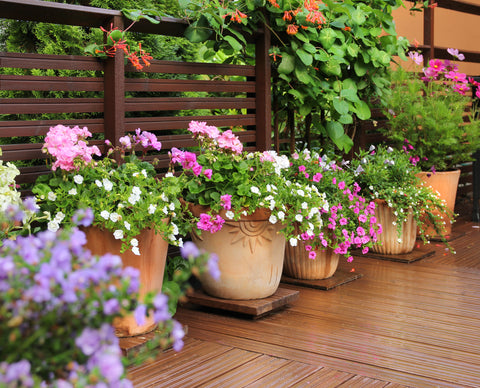 Dining area + arbor
Who doesn't like eating outdoors? This is a good way to share delicious food with relatives while enjoying nature. Imagine turning your garden into an outdoor dining area. In hot summer, there is enough shade to keep you cool. This is another project that needs to set up a shed in a blank outdoor space, but the result is worth your efforts. Place tables and chairs under the arbor. Fairytale lamps are hung everywhere on the arbor to create an atmosphere. Add a small barbecue table in the corner, and you can use this space for dinner or leisure.
Kids Corner
If children have a beautiful playground outside, it is easy to keep them away from the screen. You can turn your garden space into an outdoor recreation area, with only some fantastic touch. You can build tree houses or add swing benches in this area, and then add sandboxes and building blocks. You can also set seesaw or tire swing. Finally, there is a small rest area, so that children can rest after playing for an afternoon. Use potted plants to build an amusement park, making the space more attractive to children!
A vegetable field
The beautiful vegetable field has its simple charm, and at the same time enables you to save a lot of money on fresh agricultural products. With vegetable patches, you can cook healthy dishes and share them with your family, while enhancing the appearance of outdoor space.
You can start the idea of garden transformation by purchasing or building raised garden beds with different crops. You can also create drawings. Prepare the space, set up garden beds and add natural fertilizer to improve the soil. Start with the seeds, and then transplant the seedlings into the raised garden bed.
Renovation of small gardens with ecological gardeners
It takes time to transform the garden, but once the project is completed, you will be satisfied with the results. The transformation makes the space easier for eyes to use, and enables you to make full use of it