Ways to Create a Successful Raised Garden on The Slopes
The land sloping from the street to the back of your house is the perfect place for a garden. This is the place where people often put their gardens, but this is not always a good idea. If you live in areas that experience snow or heavy rainfall, planting in raised garden on a slope can be a challenge. 

Hillsides are not just any old garden bed. You can transform a hillside into an exciting landscape for your garden, with a combination of functional and creative planting.
Hills have a sense of drama and drama can help you add interest to your garden. Some of the most beautiful gardens use hills, so they are an attractive option for smaller gardens. The main advantage of landscaping a hillside is that it allows you to design with fewer plants. They won't get lost in the space, if you create depth with your planting.
Also, if your landscaping budget is limited, consider using a ground cover, which will allow you to put a green carpet on the slope. Join a garden on the hill by choosing hillside flowers and vegetation that like to grow in the crags and crevices or on the slopes, such as sestala, rock cress, creeping phlox and sweet aloe vera.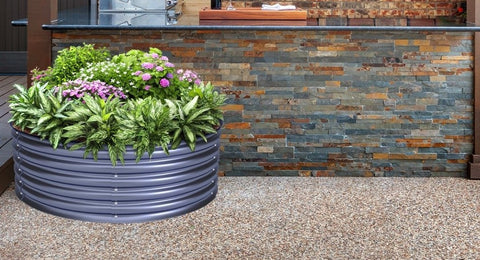 Here are some tips on how to use them.

Keep the sloping garden
A retaining wall is a way to keep soil from being washed away on a slope. Soil erosion is bound to happen, water and gravity do the dirty work. But you can add wood, rock, or concrete blocks to make retaining walls to hold the soil in place. You can also stagger retaining walls to create tiered gardens on the slopes.

If your steep slope is more than 50% or 45 degrees, consider installing a retaining wall. When installing any retaining wall, add a good drainage system behind the wall to prevent cracking or collapse.

1. Terraced hillside garden

A hillside can be a blessing when designing a vegetable garden, especially a south-facing slope. This West Coast garden, shared by the Pacific Horticultural Society, takes advantage of the high ground on the latticed side, planting flowers that will be at eye level when someone walks down the path. Each terraced row is on its own level to get direct sunlight without being blocked by the rows in front of it. Getting supplies and water to the area could be a challenge. It is wise to consider drip irrigation and the path between vegetable rows is a must.

2. Anchor hillside garden
The soil on hillsides is usually less than ideal. Topsoil tends to wash away quickly, taking nutrients and fertility with it. It is not uncommon for hillsides, mostly rocks, to be barely covered with soil. In this case, you may need to create planting pockets and add some extra soil to establish the plant.

The gardener uses two main horses, astilbe and hosta. Both can grow in the shade of the slopes of this creek, and both are hardy enough to hold their own in the poor soil. She separated the original plants and quickly covered the entire slope within a few years.

3. Climb the hillside with stones
Stone walls are a classic way to deck and tame a hillside. Although they require a lot of work initially, once they are in place, you have a functional and attractive structure. Stone walls create planting areas wide enough to work in and around, and they look good on their own, requiring little fanfare from plants. Since stones tend to warm up early in the spring and retain heat at night, you are creating a microclimate that allows you to plant plants that would not survive in other areas of the yard.

4. Borrowed hillside landscape
A hillside can become part of your landscape, even as it tapers off into the distance. The homeowners live near a wooded lot that slopes toward their yard and house. They prop up trees on all fours to create a clearer view. They planted true woodland plants such as maidhair ferns (Adiantum) and mayflies, as well as rugged workhorses such as hostas and foam flowers (Tiarella). The effect is almost a fairytale environment that sets the house as the destination.

5. Tame the hillside in small bites
Stairs are necessary when the Angle of the slope is very large. But you don't have to landscape the entire hillside -- at least not all at once. Use the area closest to your living area to create an easy-to-manage planter box. On the lower floors, you can do this without additional equipment, and the boxes are not only easy to work with; They created a garden room for relaxation and entertainment.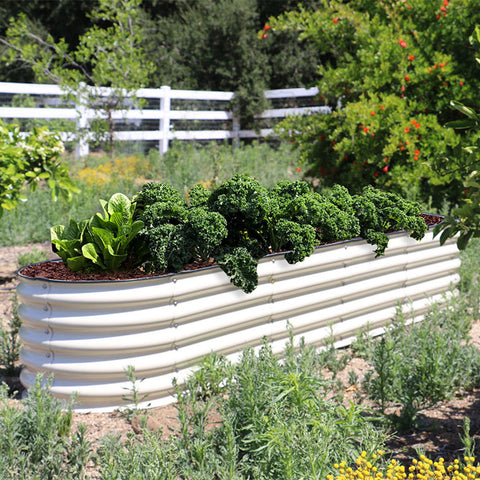 6. Natural hillside rock garden
Part of the challenge of beautifying a hillside is establishing the plants before they rush down the slope. Plants need water to establish themselves, and watering barren slopes is an invitation to runoff. Adding large rocks and boulders is a good alternative to anchoring the soil as plants take root if you don't plan to crawl up a hillside and create flat planting areas.
Hillside rock gardens can be made to look natural by allowing rocks to tumble and fall where possible. Early on some weeding and maintenance was involved, but as the plant spread it became less. As the plants fill in, it looks like the whole garden has evolved independently.

7. Roadside slope gardening
It's lovely to have a house on a hill overlooking a view, but that sometimes means your yard slopes down into the road, giving you the hell-zone effect of your front yard. As with any other slope, you need tough plants that don't require a lot of grooming. Shrubs and evergreens are ideal for this situation. Since you don't want to completely block the view from the curb, fill the front with low-growing perennials that don't require frequent division, such as hosta and ferns.

8. Create an alpine hillside garden
Consider yourself lucky if your hillside is basically rubble or naturally covered rock. You can create a unique alpine garden that draws the eye upwards. Follow this gardener's lead and use existing rocks but reposition them. The larger boards serve as steps and platforms. She also makes extensive use of hypertufa or artificial limestone, which blends perfectly with natural stone. Finally, pea gravel was used as a mulch to prevent runoff and create a uniform color palette.
Large evergreens give planting weight, and self-seeding perennials, such as corydalis, are allowed to fill in where they wish and soften rock ledges.

9. Turn the hillside into a garden walk
Terraces are placed on the pavement while planting areas are placed high up to give the effect of surrounding passers-by with the flowers. Instead of using steps, these homeowners chose to lay stepping stones with enough traction to keep walkers steady.
The lush perennials on the walkway give more horizontal variation through the use of containers and potholders on the lower levels, which create focal points for the descent. Drivers passing by on the road get a panoramic view of the hillside garden, not just the few plants in front that a flat garden can provide for them.

10. Four Seasons Hillside Garden
When you have a hillside with a view of your home, you want it to remain attractive all year round. Colorful shrubs are the perfect answer. Not only do they have four seasons of interest, but they require minimal maintenance (if any). A little trim in the spring and on your slopes should look good for the rest of the year. Shrubs are perfect for erosion control. Summer sweet (Clethra alnifolia), California clove (Ceanothus) and creeping rosemary are good choices.

11. Cover the ground on the hillside
For gentle slopes or berms that connect wooded areas to open lawns, use ground cover that naturalizes and creates colorful carpets to create smooth transitions. The soil will drain quickly on the berm, so treat it as a rock garden and use plants such as creeping Phlox, alpine, perennial geraniums and small bluebells. The use of white and pastel flowers will keep the woodland cool. You can extend the color to spring light shrouds with white and yellow variegated leaves.


12. Low maintenance plants for hillside gardens
Runoff is one of the biggest challenges facing hillside gardens, even more so when slopes extend into driveways where soil can settle. Choose plants that will be anchored to hillsides, such as shrubs, ornamental grasses, and grassland plants, such as pinecone flowers, to form root MATS. All of these plants are held in place and require minimal maintenance during the growing season. They can even stand for winter interests.

With a thoughtful choice of plants, any hillside or slope can be a focal point in your yard.