Garden Relaxation and Entertainment in Olle Raised Bed Spaces: Creating Your Tranquil Oasis
Gardens aren't just for growing plants; they're also spaces for relaxation, recreation, and entertainment. Raised bed gardens, with their versatility and aesthetic appeal, offer an excellent canvas for designing your tranquil oasis. In this blog, we'll explore creative ways to turn your raised bed spaces into inviting areas for relaxation and entertainment.
Cozy Seating Arrangements
Transform your raised beds into comfortable seating areas where you can unwind, read a book, or chat with friends. Here are a few ideas:
Built-in Benches: Design your raised beds with built-in seating along the edges. Add cushions and throw pillows for extra comfort.
Adirondack Chairs: Place a couple of Adirondack chairs on top of your raised bed for a rustic and inviting look.
Swing Seats: Hang swing seats from sturdy overhead supports for a fun and relaxing touch.
Dining Al Fresco
Enjoy outdoor dining in your raised bed garden. Consider these options:
Picnic Table: A classic picnic table can fit nicely atop a raised bed. Surround it with lush plants for a cozy atmosphere.
Bistro Set: For a more intimate dining experience, opt for a bistro set with a small table and chairs.
Outdoor Kitchen: Take it a step further by adding an outdoor kitchen to your raised bed space. A barbecue grill, countertop, and storage can turn your garden into a culinary paradise.
Garden Games
Make the most of your raised beds by incorporating garden games into the design:
Chess or Checkers: Create a giant chess or checkers board on top of a raised bed. Use potted plants as game pieces.
Corn hole: Set up a corn hole game with customized boards that match your garden's aesthetic.
Bocce Ball: Design a bocce ball court within your raised bed garden using decorative gravel.
Water Features
The soothing sound of water can add a calming ambiance to your raised bed space:
Fountain: Install a small, ornamental fountain as a focal point.
Pond: Transform one of your raised beds into a mini pond with water plants and small fish.
Nighttime Lighting
Extend the usability of your garden into the evening with well-placed lighting:
String Lights: Hang string lights between the raised beds to create a warm, inviting glow.
Solar Lanterns: Place solar-powered lanterns on top of your raised beds for an eco-friendly illumination option.
Pathway Lighting: Line the pathways between raised beds with subtle pathway lights.
Vertical Planting
Maximize space and add a touch of greenery by growing vining plants vertically:
Vertical Gardens: Install trellises, arbors, or wall-mounted planters for climbing vines like jasmine, ivy, or roses.
Relaxation Nooks
Create quiet corners within your raised bed garden for peaceful moments:
Hammock: Hang a hammock between two sturdy posts or trees for a cozy reading or napping spot.
Zen Garden: Design a raised bed with a Japanese rock garden theme, complete with raked gravel and carefully placed stones.
Entertain with Music
Install outdoor speakers to enjoy your favorite music while relaxing or hosting gatherings in your garden.
Yoga and Meditation Space
Design a serene corner for yoga and meditation practice within your raised bed garden. Place a yoga mat or a cushion surrounded by fragrant herbs like lavender or mint to enhance the calming atmosphere.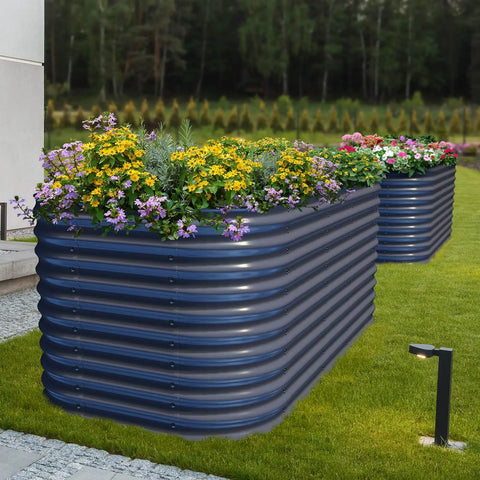 Outdoor Movie Theater
Turn your raised bed garden into an outdoor cinema with a portable projector and a white screen. Arrange comfortable seating, such as bean bags or loungers, for a unique movie night experience under the stars.
Fire Pit Gathering Area
Install a small fire pit in one of your raised beds to create a cozy gathering spot for friends and family. Toast marshmallows, share stories, and enjoy the warmth of a crackling fire.
Herb and Cocktail Bar
Dedicate a raised bed to growing herbs like basil, rosemary, and mint. Use them to craft fresh garden cocktails that you can enjoy at your garden bar, complete with a stylish outdoor bar cart.
Children's Play Area
Design a raised bed space for kids with a sandbox, swing set, or climbing wall. It's a great way to keep children entertained while you relax nearby.
Miniature Garden Railroad
If you love model trains, consider building a miniature garden railroad on top of your raised beds. Create a magical landscape with tracks winding through your garden.
Art and Sculpture Garden
Incorporate sculptures, artistic installations, or even a canvas and painting supplies into your raised bed space. Let your garden inspire your creativity and become your outdoor studio.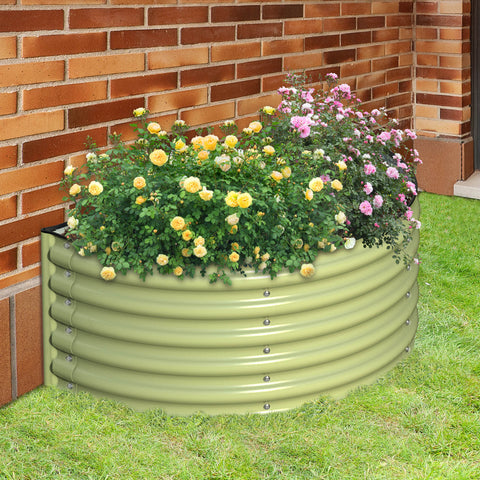 Hammock Garden
Hang multiple hammocks between raised beds for a group relaxation area. It's perfect for lounging, stargazing, or hosting a laid-back outdoor party.
Storytelling Circle
Arrange a circle of comfortable chairs or benches in one of your raised beds. Use this space for storytelling sessions, book club meetings, or simply as a place for deep conversations with friends.
Flowering Archways
Train climbing flowers like clematis, morning glories, or sweet peas to create flowering archways between raised beds. These beautiful natural tunnels provide shade and a sense of enchantment.
Outdoor Art Gallery
Display art pieces or sculptures created by local artists in your raised bed garden. Host art exhibitions or open-air galleries to showcase the talent within your community.
Rain Garden Feature
Design a raised bed as a rain garden, where excess rainwater can be directed to support native, water-loving plants. This eco-friendly feature adds a soothing, natural element to your garden.
Butterfly and Pollinator Garden
Attract colorful butterflies and essential pollinators by planting flowers specifically chosen to support their needs. Add butterfly feeders and informational signage to educate visitors.
Remember that the possibilities for turning your raised bed spaces into relaxation and entertainment hubs are limited only by your imagination. Feel free to mix and match these ideas to create a multifunctional garden that suits your personal style and preferences. Happy gardening and enjoying your outdoor haven!