Idea for a Mini Raised Garden Bed: Building a Small Garden Bed
If you have a small garden space, you can still grow plenty of plants. You just need a plan. Mini raised garden beds are a great way to maximize space while allowing better control over soil composition, drainage, and even soil temperature. The beauty of designing a mini raised garden bed lies in its versatility. Building a small raised garden bed is relatively easy, but if you're not comfortable with carpentry, there are many varieties available for purchase.

A small elevated garden bed can be used anywhere. On a balcony, on the lawn, or even on concrete. But how small can a raised garden bed be? It depends on the amount of space you have to dedicate to plants. A raised planter box can still accommodate plenty of flowers and even some herbs. If your goal is to grow food for yourself, even a small raised garden bed measuring 2 x 4 feet (0.6 x 1.2 meters) can provide a significant amount of fresh produce.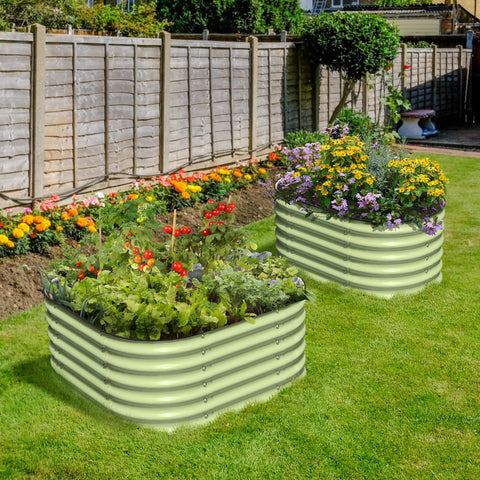 Designing a Small Raised Garden Bed

The first consideration is the amount of space you have for the project. Once you have the dimensions, you can build the bed yourself. It can be placed on a stand or simply raised with borders. These borders can be made of anything - large stones, bricks, wooden frames, concrete blocks, or other items. Take a close look at the area and consider the plants you wish to grow. For food crops, you'll need at least 6-8 hours of sunlight for successful growth. You'll also need a water source. Using a watering can is an option, but ideally, a drip irrigation system or something similar would be easier and more beneficial.

Next, turn your attention to the soil. For optimal results, amend the soil with plenty of organic matter and ensure good drainage by using loose soil and adding drainage holes in the raised bed.

How Small Can a Raised Garden Bed Be?

Only gardeners with small yards or balconies would need to consider available space. Balcony owners also need to consider weight load, as filled raised garden beds can be quite heavy. If your size is limited, there's good news. You can take advantage of dwarf plants, vertical growing, and succession planting. Succession planting ensures a continuous supply of crops, while intercropping increases diversity. When constructing a small raised garden bed, you can utilize any available space. The shape doesn't have to be square or rectangular either. You can squeeze it into a triangle or any other configuration that optimizes the space.


Small Garden Tips

Choose plants suitable for the season. Lettuce, many brassica crops, spring peas, and beans are great for fall or spring planting. In hotter times of the year, opt for cherry tomatoes, peppers, basil, cilantro, and even cucumbers. Trailing items can grow on trellises or other vertical structures. For quick-maturing items, start sowing before the previous crop is fully matured. This ensures a steady supply of produce. Practice cut-and-come-again methods, which are highly effective for lettuce and other leafy greens. Trim leaves to encourage prolific growth. With some adjustments and good planning, your small elevated bed can produce a significant amount of fresh food.